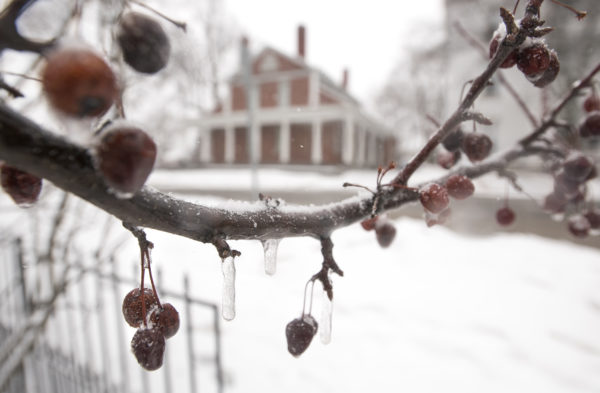 50006841_H20085392-600×393
A messy wave of snow, sleet and rain this weekend is likely to hinder holiday travel and cause power outages in the southern part of the state. (Gabor Degre | BDN)
Messy weekend storm will bring snow, ice across the state
A messy wave of snow, sleet and rain this weekend is likely to hinder holiday travel and cause power outages in the southern part of the state, according to the National Weather Service in Caribou and Gray.
A storm moving in from the south on Friday will gradually deteriorate statewide, hitting Greater Bangor with about 4 inches of snow. Larger snowfall totals, topped off by ice up to half an inch thick, are predicted further south. Snow won't arrive in northern Aroostook County until overnight Friday, and The County will be spared most of Saturday's freezing rain.
Winter storm warnings are in place for York, Cumberland and southern Oxford counties, where cold surface temperatures could freeze rain on Saturday as it falls from warmer temperatures higher up. A winter weather advisory is in place for the rest of the state.
Amounts of ice predicted for southern Maine could down power lines and cause outages, according to Tom Hawley, a forecaster in Gray.
"If you've got to travel, I'd do it right now, or wait until Sunday, because late today [and] early tomorrow is just going to be a mess," Hawley said.
The Fiddlehead Focus / St. John Valley Times is pleased to feature content from our sister company, Bangor Daily News. To read the rest of "Messy weekend storm will bring snow, ice across the state," an article by contributing Bangor Daily News staff writer Callie Ferguson, please follow this link to the BDN online.