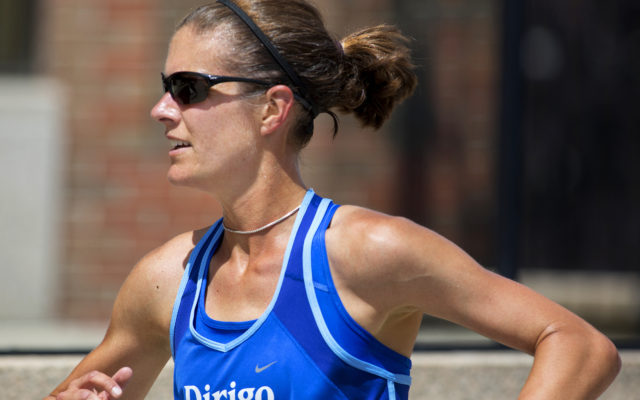 HUNTRACE070417_010_20769518
Tracy Guerrette turns toward the finish during a road race in the Bangor area held this summer. Guerrette placed first in the women's division at the Caribou Turkey Trot 5K, held Saturday, Nov. 25. (Ashley L. Conti)
Beckum and Guerrette capture Turkey Trot victories
CARIBOU, Maine — Thomas Beckum of Caribou and Tracy Guerrette, a native of St. Agatha now living in Bangor, won Caribou Turkey Trot 5K titles in convincing fashion Saturday.

Beckum won the overall and men's titles by posting a time of 18 minutes and 15.1 seconds, and Guerrette was the overall runner-up and came in first among women at 18:49.1.
The remainder of the overall top 10 included: third, Chris Rines, 19:15.4; fourth, Christian Sleeper, 19:50.5; fifth, Isaac Raymond, 20:23; sixth, Bruce Clark, 20:33; seventh, Marie Beckum, 21:13.4; eighth, Kayla Buck, 21:24.4; ninth, Jared Sleeper, 21:41.8; and 10th, Marc Cole, 22:13.5.
Sixty five runners and 15 walkers participated in the annual event.
The starting and finishing line was at Caribou High School as the course took participants out onto Woodland Center and Lombard roads and back.
Division winners were: 14-and-under female, Kaiden Rosi-Carney (26:54.3); 15-19 female, Teagan Ewings (22:53.2); 20-29 female, Buck; 30-39 female, Marie Beckum; 40-49 female, Rebecca Allen (25:50.7); 50-59 female, Angela Ewings (23:03.80; 60-and-over female, Connie McLellan (29:49.4); 14-and-under male, George J. Ferland (27:36.6); 15-19 male, Owen McQuarrie (22:26); 20-29 male, Rines; 30-39 male, Emerson Wright (23:35.3); 40-49 male, Marc Cole, 22:13.5; 50-59 male, Clark; and 60-and-over male, Ed Malone (25:54.8).
Lori Collins and Emily Collins were tied for first in the walker's division with identical times of 43:17.