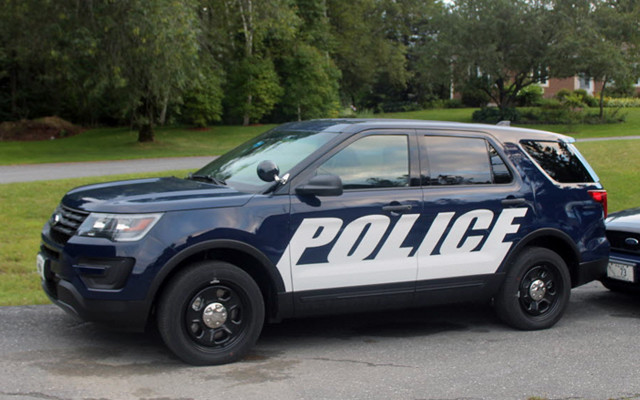 FKPD
Police cruiser for the Fort Kent Police Department. (Jessica Potila | SJVT/FhF)
Thief steals enormous bottle of loose change from FK senior citizen
FORT KENT, Maine — Police are investigating a reported theft of more than $1,000 from a resident of the Brookside apartment complex in Fort Kent.
Barbara Kelly, 63, returned home Monday after visiting relatives in Connecticut last weekend to discover that someone had taken a water-cooler sized container of change from her home. She estimated there was more than $1,000 in bills and coins in the jug.
She reported the theft to the Fort Kent Police Department, which continues to investigate.
Kelly's daughter, Sara Harvey, 34, of Caribou shared a moving message Monday evening on the social media website Facebook regarding the crime.
Harvey apologized for being "too personal" in the post, explaining that her mother is a cancer survivor known to help others in need.
"All the kids know to knock on her door if they want a popsicle or need some lunch," Harvey wrote. "They sometimes just come for the attention and company she provides."
During an interview on Thursday, Harvey added that her mother "is kind of like an adopted grandma for that housing complex. She's always giving kids food or sweaters or toys or (spends time) just talking to them.
The daughter added that her mother also does laundry for some of her adult neighbors, offers rides and does errands for people.
That's what makes the theft so difficult to accept, because Harvey believes someone who knows her mother and knew about the jug likely committed the crime.
Her mother also has been recovering from breast cancer that doctors diagnosed her with last fall. So far, the Allagash native has managed to beat back the disease.
"She went through chemotherapy and surgery early this year and so far as we know everything has been successful thus far; we just hope that it stays that way," Harvey said Thursday.
An employee of Aroostook Home Health Services, Kelly had been saving the loose change and bills for years, according to her daughter.
Kelly was caring for her adult handicapped son on Monday, when she realized the money was missing. Kelly kept the savings jar tucked in a corner in the kitchen, and noticed it was gone when she prepared to gather some snacks for her son, according to Harvey.
"I'm assuming it was someone from her neighborhood who knew her, who knew she'd be gone, who knew where she kept it," Harvey said. "And I think that's almost worse than a robbery in general because it hurts the heart to know that someone you would give freely to would take from you behind your back."
Anyone with information about this crime should contact the Fort Kent Police Department at (207)834-5678.