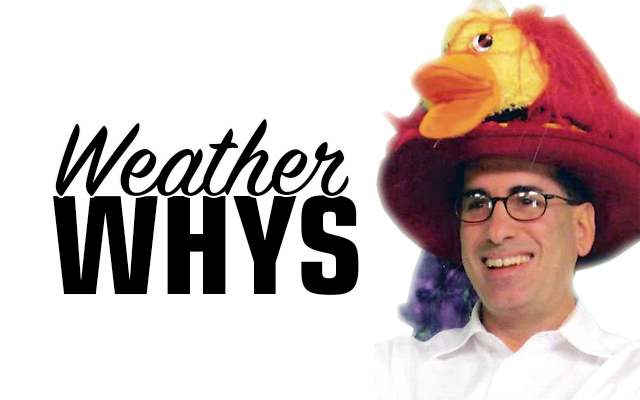 Ole Man Winter
With the winter season bearing down on us, I thought it would be a good time to talk about the various types of weather alerts you may come across. I realize that people have a variety of apps on their phones. What I am going to be writing about is National Weather Service terminology.
First of all, starting this season, there will no longer be a "Freezing Rain Advisory". That will be folded into the already existing "Winter Weather Advisory".  Freezing rain, which is the ice glaze created when rain freezes to surfaces on contact, is much more hazardous to drive on than powdery snow. You can find out the precipitation TYPE the NWS is expecting, if you read the text of the advisory itself.
The other item which the NWS is eliminating, starting this season, is the Blizzard Watch. That will be folded into the Winter Storm Watch. More on blizzards in a moment.
In The County, a WINTER STORM WARNING, with snow as the only expected precipitation type, would be issued if snow were forecast to accumulate 7 inches in 12 hours, or 10+ inches in 24 hours. Now, when especially heavy snowstorms occur, 99.9 percent of folks would say that they had a blizzard, but, surprisingly, a blizzard need not have any NEW snow at all! A blizzard is defined as falling AND/OR blowing snow, reducing visibility to 1/4 mile or less, with sustained winds of 35 mph, with these conditions holding for at least three hours. If these conditions exist, a BLIZZARD WARNING will be issued
By the way, google "Buffalo Blizzard 1977" and you will see some astonishing photos. Check it out and then consider that Buffalo only received 12 inches of new snow. Most of the snow blew in from frozen Lake Erie. Buffalo easily met the criteria for Blizzard conditions. Powerful winds blew the snow that fell, along with the huge amount that blew in from off the lake, into mountainous drifts! A BLIZZARD has as its greatest hazard, visibility, or shall I say, lack of visibility. In a blizzard, trying to see while driving is like trying to drive blindfolded. BLIZZARDS also have those strong winds, mentioned above, and these winds can lead to extensive, sometimes extreme drifting. Roads drift over only a short time after a plow pass.
A WINTER STORM WATCH means that there is the potential for a winter storm that will make travel very challenging or perhaps even impossible. Winter storms are sometimes all snow, which we in The County love, but sometimes there is sleet (little BBs of clear ice) and sometimes there is freezing rain, rain which falls and then freezes on contact, and we get plenty of winter storms which feature all three.
When lesser totals of snow/and/or sleet and/or freezing rain are expected, a WINTER WEATHER ADVISORY will be issued. The NWS considers this to be "weather causing an inconvenience." However, "inconvenience" is a rather mild word, so when you hear WINTER WEATHER ADVISORY, I'd like you to think, "I NEED TO BE REALLY CAREFUL AND SLOW DOWN."
When there is a heavy accretion of freezing rain that is expected (remember, freezing rain is the clear ice glaze), an ICE STORM WARNING will be issued. Ice storms are always bad news, as they down trees and power lines under the tremendous weight of the ice, and can cause major, long-lasting disruptions. Our neighbors in New Brunswick had a devastating ice storm this past winter that was the equal, in northeastern portions of the province, to the infamous ice storm of 1998 in portions of Maine.
So again, this winter, there will no longer be the Freezing Rain Advisory.  That will now be called a Winter Weather Advisory. Nor will there any longer be a Blizzard Watch, that will now be called a Winter Storm Watch.
One thing you need to know about the Winter Weather Advisory, is that if there is just going to be a little freezing rain or just a couple of inches of snow, the NWS may decide to cover this with a Special Weather Statement INSTEAD of issuing a Winter Weather Advisory.
Also, on occasion, the NWS will put out a Hazardous Weather Outlook a day or two before a potential Winter Storm Watch is issued.
If you want to know if any of the above are in effect, you can go to the NWS Caribou homepage by googling "NWS Caribou".
Ted Shapiro holds the Broadcast Seal of Approval from both the American Meteorological Society and the National Weather Association. An Alexandria, Va. native, he has been chief meteorologist at WAGM-TV since 2006. Email him at tshapiro@wagmtv.com.