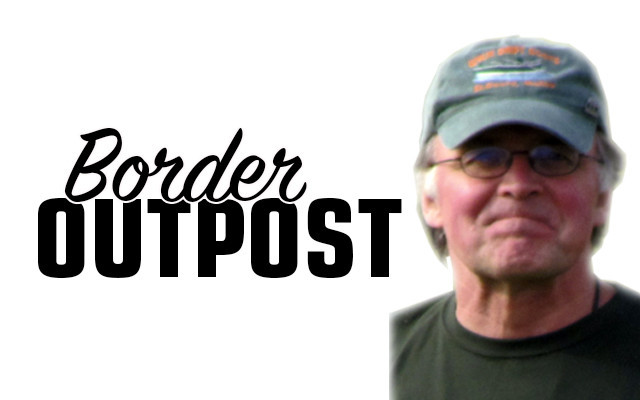 BorderOutpost-Wylie-640×400
Remembrance Day: Part 2
Yes, there is a Part 1. Some forty years ago, I wrote a comment piece on the Canadian Nov. 11 commemoration called Remembrance Day, back when I worked for the Valley Times. It contrasted the American Veteran's Day with Remembrance Day noting the horrific sacrifices Canada made during the First World War, the Great War. I remember the piece not so much for what it contained, but for the response I received after its publication. 
I'm in the Times office. The telephone rings and someone wants to talk to me.
"This is so-and-so from the Canadian Legion post in Edmundston." the gentleman says. "We like your article. The boys would like to stand you a drink."
I never quite heard it put that way, and I really liked the Old Worldliness of the expression. That's why I remember it. Of course I accepted the invitation.
It's rather humbling to be a 20-something reporter and seated amidst five or six 50-  and 60-year-old World War II veterans serving you a glass of beer for something you've written. It was completely unexpected. I was honored.
I spent part of the afternoon talking with them about their experiences, even though they were reticent about them at first. I wasn't there to prime these older gentlemen for war stories. I wanted to ask them if they heard of a certain fellow I'll call G. whom I was told was a veteran of the Great War. This G. was a rather sorry figure in my youth, sitting half-drunkenly in the barber shop where I got a haircut as a boy. He was a small man cackling away at some phantoms of his imagination. If I didn't know any better, I'd have sworn he was firing an imaginary machine gun at them.
"Oh G.!" one of the veterans exclaimed. "He's our hero!"
The other men around the table nodded in agreement.
"G. was at Passchendaele. He was a machine-gunner" the veteran said. "Held it for some ungodly two days, his crew around killed and the Germans kept coming at him."…. or words to that effect.
"They found him with gun empty and him half out of his mind. Slapped a medal on his chest and sent him home." he continued.
Today we call what G. had Post-Traumatic Stress Disorder — PTSD. They called it neurasthenia, shellshock, battle fatigue, and other descriptions back in the day. It's real. I'd seen its effects on another human being a long time ago as a boy.
I'm remembering this in part because the Battle of Passchendaele took place 100 years ago this month. It was another long-drawn out and bloody foot-slog in the mud of Flanders in a war that most consider the distant past.
The late Australian-born American art critic Robert Hughes once said (in that marvelously expressive "Strine' accent of his) "there's only the past … the present is fleeting and the future doesn't exist." I thought he hit the nail bang on the head.
We're all connected to the past in one way or another, like I am to a shellshocked victim of a bygone battle in Flanders. Like my father, a boy in a parade carrying the flag on the Fourth of July in Springfield, Massachusetts, charging ahead to avoid being trampled by horses ridden and barely controlled by very old men … Union Army veterans of an American Civil War.
Nor is it that war defines the past. It's simply that such events turn things inside out and become history and we forget this at our peril.
           The Canadian soldiers of the Great War are all gone now. I  remember them, and one in particular, as being no different than anyone alive today, except they were in the Great War. Some lived that war more intensely than others. Many never got out of it alive.
I've resigned myself to the idea that war is an unavoidable characteristic of the human species; that there's something inherently belligerent in humanity. I do not like it, but that does not exempt me from acknowledging it in myself as a human being. It becomes a case of rationale, what are the reasons for certain wars?
Remembrance Day is a good enough time to reflect on it … and the cost. The terrible, terrible cost.
Dave Wylie's life and work experience runs the gamut from newspaper editor to carpenter to grant writer to boat builder with lots of other work wedged in between. Wylie currently is president of a management company that oversees an elderly housing complex and president of the local historical society. He resides in Madawaska.