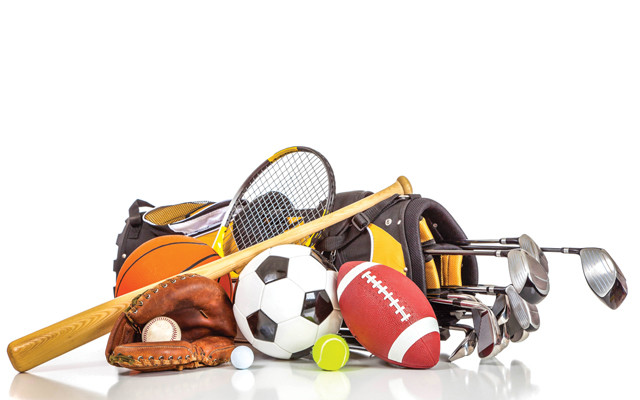 Sports
Graphic of various pieces of sports equipment by Metro Creative.
Bengals top USCAA ranks
NORFOLK, Virginia—The United States Collegiate Athletic Association (USCAA) has announced the first set of rankings for the fall playing season and all three UMFK teams are represented. Women's and men's soccer are both rated as the number one teams and volleyball is currently number four.
The men's soccer team has started the season 7-0 and has outscored its opponents 36-4. UMFK recently beat fifth-ranked and previously undefeated Berkeley College of New Jersey.  Bryant and Stratton, the opponent of the last two USCAA National Championship matches, which UMFK won, is ranked 10th.
The Bengals, led by senior keeper Butch Forbes, have not allowed a goal in over 270 minutes of play. Mark Parchment leads UMFK in scoring this season with nine goals and five assists.
The women's soccer team has been the top-ranked team for over four consecutive seasons. The Bengals also won the last four USCAA National Championships and are the favorite to win again this season. UMFK is currently 5-1-2 on the season. Their only loss early in the season to Gordon College was the first match the team has lost in their previous 40 matches. The two ties came to NCAA Division II and NAIA Division I teams on a season-opening road trip to Ohio and Pennsylvania.
UMFK is led once again by 2016 USCAA National Player of the Year, Sherifatu Sumaila who leads the USCAA with 13 goals and 10 assists. Sumaila set a UMFK record with 48 goals a season ago. The Bengals lead the USCAA with 38 goals and 29 assists as a team.
The volleyball team is hoping for a third consecutive appearance in the national tournament in November. UMFK is 13-2 on the season and currently holds the USCAA's longest active winning streak, at 10 matches. The Bengals have lost only nine sets in 15 matches with one of the two losses coming early to perennial powerhouse, Carlow University.
Newcomer Haley West is ranked fifth in the USCAA for total assists and fourth in assists per set. The Bengals are top 10 in kills per set, hitting percentage and assists per set.