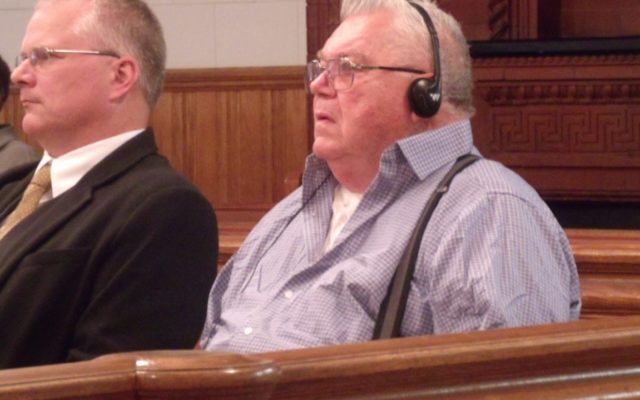 CRAIGSMITH_21296205
Robert Craig, right, wearing headphones to better hear court proceedings, awaits sentencing for the murder of Leo Corriveau on Tuesday, Sept. 12, in Aroostook County Superior Court. Justice Harold Stewart II sentenced to 33 years. Sitting next to Craig is defense Attorney Stephen Smith. (Jen Lynds | BDN)
81-year-old sentenced to 33 years for killing 86-year-old Presque Isle man
CARIBOU, Maine – A Florida octogenarian convicted in July of murder in the death last year of an 86-year-old Presque Isle man was sentenced Tuesday to 33 years in prison.

Robert Craig, 81, of Clearwater, Florida, was emotionless as Aroostook County Superior Court Justice Harold Stewart II announced the sentence.
Craig testified during his jury trial that he strangled to death Leo Corriveau, his friend of four years, in self-defense after the two of them got into a fight over the victim allegedly reneging on a deal to finance Craig's travel back from Maine to his home state. Corriveau, who wintered in Florida, had driven Craig to Corriveau's home on July 12, 2016, according to an affidavit filed by Maine State Police Sgt. Darrin Crane.
Craig testified that he was "afraid for his life" and had no choice but to kill Corriveau when they got into a fight outside the victim's home on July 21, 2016. He testified that Corriveau struck him first, knocked him down and then sat on his chest to constrict his breathing. Craig told jurors that he has chronic obstructive pulmonary disorder and asthma and could not breathe, so he put his hands around the victim's neck and "squeezed the life right out of him."
Craig was represented by court appointed defense attorneys Stephen Smith and John Tebbetts. Assistant Attorneys General Robert "Bud" Ellis and John Alsop prosecuted the case.
Ellis told the judge on Monday that Craig deserved "in the 30 to 40 year range for a sentence for this case." He said that no one could imagine the terror that the victim must have felt in his final moments after Craig not only strangled him, but "left him to rot in his backyard."
Family members found the body on the lawn 40 hours after Corriveau was killed.
"Any remorse Craig has is shallow," the prosecutor said. "He doesn't feel he did anything wrong."
In a written statement, Gladys Corriveau, the victim's sister, spoke of the pain she feels about losing her brother, who she spoke to every day. She told Stewart that she raised the victim, only to have him ripped violently away by the actions of Craig.
Joann Corriveau, the victim's daughter, described how the family had "no closure" and "no chance to say goodbye or grieve" after the murder. She said that since Craig left Corriveau's body on the lawn exposed to the elements, an autopsy and cremation were necessary, negating all chances for a "proper service."
Stephen Smith, Craig's defense attorney, told the court that his client would not file an appeal and he did not argue for a lesser sentence.
Craig faced 25 years to life.
"No matter what the sentence, he will die in prison," Smith said. "He does feel sorry for Leo's death and his role in it."
Craig also addressed the court and family members on Monday.
"I had no intent to kill Leo," he said. "I was fighting for my life and I apologize to the Corriveau and Craig families. This was hard on both."
In handing down the sentence, Stewart said that while he did believe the murder stemmed from an argument that spun out of control, he did not believe that Craig was truly remorseful or had accepted enough responsibility for it. He also imposed restitution of $4,190 for the Corriveau family.