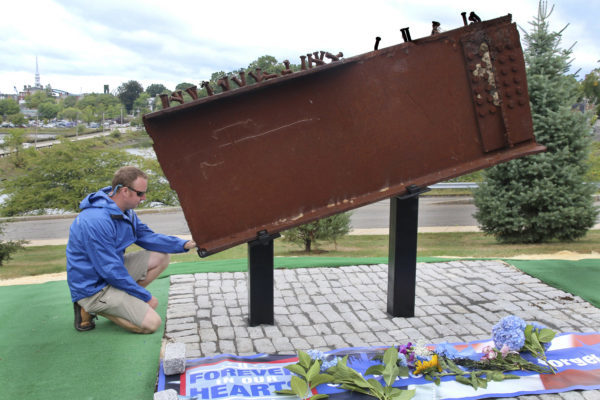 43983481_H21247368-600×400
In this Sept. 11, 2015 photo, Robert Churchill of Durham, New Hampshire, kneels by the 9/11 monument following the annual memorial service at City Hall in Portsmouth. Several cities across New England are expected to remember the 16th anniversary of the terror attacks with memorial services, a moment of silence, and a stair climb to honor the hundreds of firefighters that died that day. (Rich Beauchesne | AP | BDN)
New England to remember 9/11 with memorials, flag waving
CONCORD, New Hampshire — After helping scores of police officers and firefighters search for survivors following the 9/11 terrorist attacks, Police Chief Robert Merner in Portsmouth, New Hampshire, remembers the sense of unity and hypervigilance that had taken hold in New York City and across the country.
Sixteen years later, Merner wants to ensure a new generation remembers those events and the important lessons that emerged from the attack that left more than 2,700 people dead when hijacked planes slammed into the World Trade Center towers on Sept. 11, 2001. Many more died when hijackers crashed planes in Washington, D.C., and in Pennsylvania.
Merner, a 29-year Boston police veteran who took over the crime scene of the 2013 Boston Marathon bombing and helped capture bomber Dzhokhar Tsarnaev, will speak at a 9/11 memorial event Monday in front of the Portsmouth police station.
The Fiddlehead Focus / St. John Valley Times is pleased to feature content from our sister company, Bangor Daily News. To read the rest of "New England to remember 9/11 with memorials, flag waving," an article by contributing writer Michael Casey, please follow this link to the BDN online.