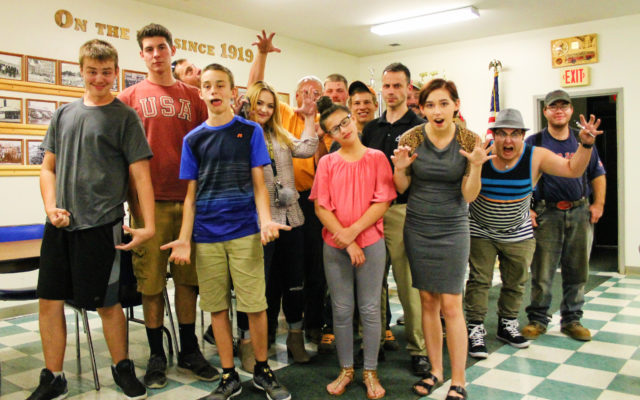 IMG_8870_21177842
These volunteers, gathered at a planning meeting on Aug. 29, are ready to scare visitors to the Eagle Lake Fire Department's Haunted Forest on Sept 30. (Don Eno)
Volunteers to bring haunted forest alive once again
EAGLE LAKE, Maine — People looking for a scary good time this fall can once again look to the woods of Eagle Lake, as members of the town's fire department and a small army of enthusiastic volunteers turn the forest into a fright fest.

"Halloween is my Christmas," organizer Robert St. Germain told a group of volunteers who gathered late last month for a planning meeting at the Fort Kent fire station. The fundraiser will take place on Sept. 30.
St. Germain, who had been with the Eagle Lake Fire Department several years ago when he first came up with the Haunted Forest fundraiser, has been meeting with volunteers in Eagle Lake and Fort Kent in preparation.
This year, St. Germain said, "overwhelming" support from area sponsors will ensure an even better scarefest and enable the group to continue to offer a fun event in the future.
More than $2,000 was raised, mainly from local merchants, said the leader of the ghastly group, who is now with the Fort Kent Fire Department. That means better props and scenery, more themes and more creativity from the volunteers, who include fellow firefighters, college and high school students, and other area residents.
The popular event has regularly drawn between 500 and 700 people over two nights, according to St. Germain. This year, however, organizers have opted to hold it on one night, with the event lasting "as long as there are people in line," St. Germain said.
Having it on one night will make it easier logistically for the volunteers, he said. Also, planners moved it from October to late September to take advantage of the warmer weather.
Over the past several years, a core group of volunteers have gained expertise in conjuring up ghoulish scenes and creating frightening stations that appear along the dark wooded path behind the Eagle Lake Town Office.
Each volunteer is left to create his or her own character and theme, allowing St. Germain to oversee the big picture, and, of course, work on his own special scary character. St. Germain said some volunteers from the past who no longer live in town return each year to take part.
"Everybody has the same input on ideas and creating the forest," he said. "Everybody wants it to succeed."
There will be about 40 stations or themes along the 2,200-foot dirt path this year. St. Germain, who works for Fairpoint Communications, said he takes off the entire week before the haunted forest event to set things up.
He said organizers have some surprises planned for this year. "We want to keep people on their toes," he said.
Participants go through the haunted woods in small groups, led by costumed escorts and holding onto a rope. Children are allowed to take part, although parents are warned that some stations may be too scary and graphic for some.
St. Germain, however, has seen many a child laugh and enjoy being scared, and has seen grown men jump back in total fright.
Without revealing too many shocking secrets, St. Germain said, "There will be chainsaws again. People love being chased by a chainsaw, for some reason. And we have caskets being built right now," for one of the stations.
He said that he and the volunteers have improved scenery and special effects, added some new characters, and planned classic horror and slasher creatures.
St. Germain stressed that the safety of volunteers and participants are paramount. Any participant who leaves his or her group will be removed from the event. Police also will be present and will be involved as needed to address any serious problems.
The event began as a fun benefit for the Eagle Lake Fire Department with the funds raised to help pay for new equipment for firefighters. With major sponsorship this year, St. Germain said the financial management will be easier.
The money raised still will be overseen by town officials and fully audited, but St. Germain will no longer have to "borrow" from the fire department account to buy haunted forest supplies and then pay that back after the event.
"All the money raised at the event goes to the (fire) department," he said. Sponsors also will be recognized with banners at the event staging area.
Once again, members of the Eagle Lake Parent / Teacher Association will be on hand selling refreshments, also as a fundraiser.
"Getting the community involved is very important," St. Germain said.
The Eagle Lake Haunted Forest has set a high bar, far above other Halloween haunted events in the region, St. Germain said.
"I am a kid all over again," he said. "There is nothing like it around."
This year's Eagle Lake Haunted Forest will start at 7 pm, Saturday, Sept. 30, at the Eagle Lake Town Office. Vehicle and foot traffic are expected to be heavy and caution is advised when walking, driving and parking in the area.
Admission will be $10 for adults and $5 for children under 12.
The Haunted Forest, complete with a few creepy clowns, raised about $2,000 for the Eagle Lake Fire Department, on Oct. 28 and 29, 2016. (File photo/Don Eno)
The Haunted Forest, complete with a few creepy clowns, raised about $2,000 for the Eagle Lake Fire Department on Oct. 28 and 29, 2016. (File photo/Don Eno)