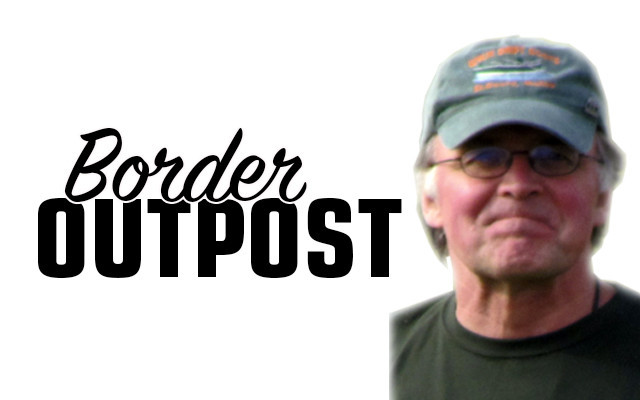 BorderOutpost-Wylie-640×400
Bougainville and baseball
I'm currently in the midst of reading Louis Antoine de Bougainville's North American journals. They were written when the young French explorer and soldier was serving as Gen. Louis-Joseph de Montcalm's aide de camp during the French and Indian War, (1755-1762). The journals are my second read of it, having lent the first copy to someone and forgetting who borrowed it.  No matter, I found another copy. The book is a fascinating insight into the movements of the French and Canadian army and their Indian allies as they move through the woods and waters of this part of the continent.
The most intriguing part is Bougainville's description of the Native Americans, their manners and customs, and the conditions of service required from the French as they served with them against the British. He rattles off the names of various tribes; some large, some as small as a few dozen. He was fascinated and bewildered by their view of the world they live in. Bewildering, I should note, to a classically educated French officer who had never seen the like at any time before his arrival in New France.
The book isn't easy to find. It's sadly out of print, but worth chasing after for its insights into the activities and actions of the French and their Canadian auxiliaries. It's history as seen from the 'other' side, the French side, a far cry from the trumpeting of history as seen by the English and Americans. Rogers' Rangers, for instance, are written by Americans as brave woods-wise heroes lurking through the woods in search of the enemy. French accounts describe them as a ragtag bunch of incompetents, preying on innocent women and children, and losing almost every encounter they have with the French and their Indian allies. Here, American history is often written as boast and fiction. French accounts tell another story.
Bougainville has mixed views on the natives, alternately describing them as  superstitious, unpredictable cannibals, and as invaluable guides and ruthless warriors in the mix. He pays particular attention to the store they place in dreams; where a chief or shaman could have a dream the night before that might determine how they would act as a group the next day or in the next engagement. Naturally, this exasperates Bougainville, who derides their beliefs as superstitious nonsense, complaining that the very atmosphere, the air one breathes in North America lends to this incredible behavior.
'What has this got to do with baseball?' you might ask.
I awoke this morning from a dream about baseball, where someone I knew was pitching a baseball in my direction and I kept swinging the bat and missing. The pitcher tells me to pay attention to the zone somewhere between my chest and hips and 'watch the ball' carefully. In the dream, I watch the ball at the next pitch and hit it squarely. The ball sails off in a long, wide arc. He throws the ball again, same thing. The third time, I swing and nail the baseball right on the bat's 'sweet spot' and it flies off and away; a clear home run.
At this point, I wake up and it breaks my heart that I'm not that 18-year-old boy again, but a busted–up old geezer with a gammy leg and bad eyesight; a man in his mid-sixties.
I used to play baseball when I was much younger and was a decent enough catcher and hitter to be asked to join the Edmundston Republicans, the local semi-pro baseball team. I understood it was a farm team of a farm team, periodically scouted by the pros. I don't know if I was good enough, but I'd like to imagine I could have been scouted by the Boston Red Sox and one can take it from there. But no, I wanted to go to college. Now I read Bougainville and have baseball dreams in Madawaska.
The dream makes me wonder if I should go out and buy a lottery ticket; it feels that prophetic. Ah, the air of North America!
Bougainville would frown.
Dave Wylie's life and work experience runs the gamut from newspaper editor to carpenter to grant writer to boat builder with lots of other work wedged in between. Wylie currently is president of a management company that oversees an elderly housing complex and president of the local historical society. He resides in Madawaska.