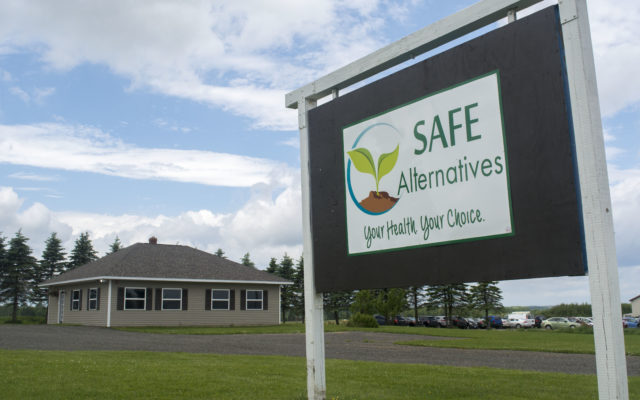 42994881_H20673928
Safe Alternatives, a medical marijuana dispensary, opened in Caribou on June 9. The facility will hold a grand opening on Sept. 9. Safe Alternatives is the only medical marijuana dispensary in Aroostook County. (Christopher Bouchard | Aroostook Republican)
Safe Alternatives preparing for Sept. 9 grand opening
CARIBOU, Maine — The County's only state-licensed medical marijuana dispensary will hold their grand opening on September 9 between 11 a.m. and 3 p.m., offering raffles, prizes, certifications, and food courtesy of local businesses.

The facility first opened in Caribou on June 9, moving from their former Eagle Lake location. All marijuana sold via the Caribou store is still grown at a facility in Eagle Lake, but it must be purchased in the new shop.
Safe Alternatives offers 18 strains of cannabis designed to treat conditions ranging from severe nausea and muscle spasms to cancer, glaucoma and AIDS. The business also offers edible alternatives such as brownies, chocolates and cookies for those unable to smoke, in addition to CBD, which provides medicinal effects without any high.
General Manager Kayla Bosse said the business has seen a decent amount of growth since June, with customer numbers climbing and "great results with Canna Care," an organization involving medical marijuana doctors in Maine and several other states.
Doctors from the Bangor office make routine visits to Safe Alternatives and meet with patients who wish to receive certification allowing them to possess and consume medical marijuana.
Once Bosse finds enough people interested in certification, between 10 and 30, she contacts the Bangor Canna Care office and schedules a date for one of their doctors to arrive in Caribou.
"The doctor comes up and you just fill out their paperwork and they set you up with one of their doctors via telemedicine," said Bosse, adding that patients with PTSD are required to bring in paperwork beforehand.
"Our hopes are that, afterward, people want to come to us," Bosse said, "but is their right to go wherever they want to go."
The Canna Care doctors will be at the grand opening for new patient certifications and renewals, she said.
Though marijuana has been legalized in Maine, Bosse said they will not permit any smoking on dispensary grounds due to liabilities.