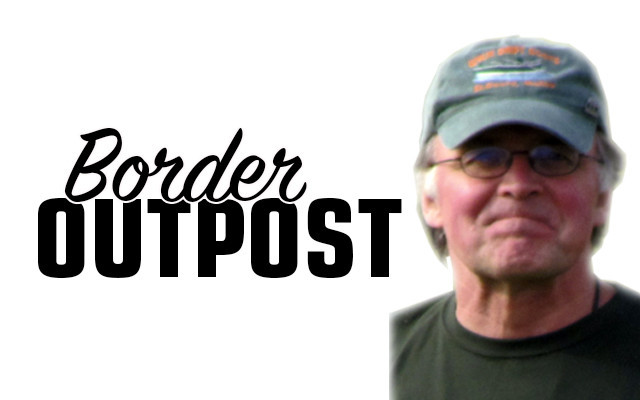 BorderOutpost-Wylie-640×400
In the manner of Suetonius
If the Roman historian and gossip columnist Suetonius were alive today, he might probably write:
"In the twilight days of the Republic, the people had become dissatisfied with political stalemate and elected Gaius Donaldum Trumpidis as Consul following a boisterous campaign in which great untruths were told to and believed by the populace, reputations besmirched, taunts and threats uttered and the field of action cleared for the ascension of Trumpidis. A great and vocal dissimulator, Trumpidis boasted of a decisive victory over his rivals in the republican year 241, ushering in a brief period of upheaval that nearly brought the republic to its knees.
"The son of a certain Claudius Fredricus Trumpidis, who made his fortune in land speculation, and a peasant woman of lowly Caledonian birth, Trumpidis the Younger, amassed a questionable fortune using funds inherited from his father.
"Once elected Consul, Trumpidis surrounded himself with sycophants of the first order; men of mostly dubious character whose reputations were further compromised by their fawning obedience to the Consul. Trumpidis, however, mercurial as ever, browbeat and dismissed many of these advisers, goading them beyond endurance with insults and insinuations regarding their character prior to summary dismissal, but not without having inflicted various forms of humiliation on them beforehand. His unpredictable behavior only led to a diminution in this pantheon of unworthies. Eventually, no one possessing any semblance of character was willing to put themselves forth for his consideration.
"Chaos reigned. He blamed others.
"'This country is a total disaster, total,' he was quoted as saying in frustration.
"Trumpidis, in his search for some semblance of order in his regime, sought the counsel of his generals. These stern and forbidding veterans were increasingly humiliated by his antics, and forced to publicly endure embarrassing tirades while standing helplessly nearby as he exercised increasingly erratic behavior. Ultimately they were relegated to the role of statuary, mere adornments in a display of Trumpidian pomp and power.
"As his circle of advisers diminished, Trumpidis began to rely on the children by his various wives. They, however, were not exempt from censure when their actions or words reflected poorly on or ran contrary to the wishes of the Consul.
"'My children are a total disaster, total,' he was alleged to say to one of his aides, later dismissed.
"Thankfully, few laws or programs were advanced in the reign of Trumpidis, sparing the republic and the Senate the onus of advancing the import and tenor of his decrees.
"Trumpidis possessed a remarkable garishness of taste said to have rivaled that of Lucullus and other voluptuaries. Objects he displayed were often gold plated or merely highly polished brass intended to give the appearance of gold. His name was often prominently incised into these objets d'art, further devaluing their putative worth.
"He often exhibited and exercised vulgar opinions, particularly when it came to the race, gender and ethnicity of others who differed from his own. He possessed a predilection for harassing and tormenting the weak, the poor and powerless; something that would prove his eventual undoing. Despite this, he was said to have enjoyed an enduring support in the provinces beyond the Capitol.
"The following is a physical description of Gaius Donaldum Trumpidis:
Height: tall.
Hair: flossy, thin, flattened on the top.
Eyes: blue and bloodshot, with pronounced bags beneath.
Nose: nondescript.
Hands: tiny.
Body:  corpulent and lumpy, often stooped."
Here, the remaining manuscript is presumed lost.
Dave Wylie's life and work experience runs the gamut from newspaper editor to carpenter to grant writer to boat builder with lots of other work wedged in-between. Wylie currently is president of a management company that oversees an elderly housing complex and president of the local historical society. He resides in Madawaska.