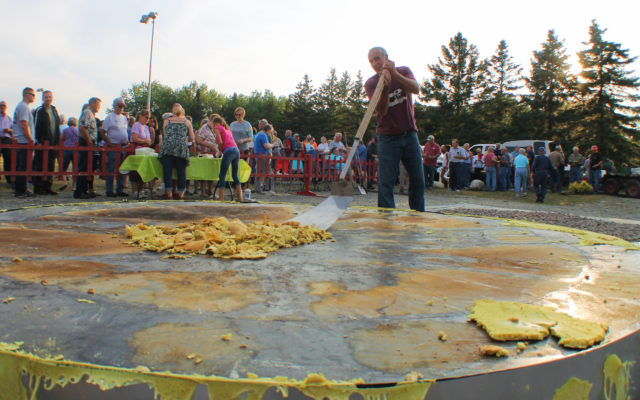 42138381_H21034282
Joey Bard uses an oversized spatula to gather what is left of the world's largest ploye on Friday evening. The Bouchard family once again cooked up the enormous treat at Riverside Park as part the the 24th Annual Fort Kent Ploye Festival. (Don Eno|Fiddlehead Focus)
Muskie Derby, Ploye Festival draw crowds to Fort Kent
FORT KENT — Cloudy skies that threatened rain seemed to deter few people from gathering at Riverside Park Friday evening to watch the Bouchard family and their friends cook the "world's biggest ploye."
Watching the Bouchards prepare the enormous bed of coals and then assemble the large frying pan is part of the spectacle and just one of many planned activities expected to fill downtown sidewalks and community parks with people through Sunday.
The 24th Annual Ploye Festival is now in its 10th year combining with the International Muskie Derby. The events have regularly drawn crowds of St. John Valley residents, visiting relatives, anglers and vacationers exploring what northern Maine has to offer.
People gathered at Riverside Park Friday evening were able to get a sample of the giant ploye, complete with melted butter. Earlier in the day, children took part in a ploye eating contest.
Those contending for prize money in the fishing derby for muskellunge, more commonly known as muskie, did not waste much time, according to derby chair Dennis Cyr of Fort Kent.
"Two came in qute early this morning," Cyr said Friday afternoon. "There's a lot of boats on the river. They're still confident they'll catch more."
Cyr had heard there were a lot of derby contestants on Glazier Lake, located northwest of Fort Kent. Eligible derby waters include the St, John River and any of its tributaries or the lakes on those tributaries where muskie are found. The fishing derby also has a separate bass category.
As of 2 p.m. Friday, six of the nine muskie turned in had been weighed in at the Grand Isle station, including a 45-and-7/8-inch long fish atop the leaderboard, landed by Chuck Cabanass. The main weigh station and derby headquarters are located in Fort Kent.
Anglers participating in the derby had not commented that the low water levels in the St. John River were affecting their fishing, Cyr said. Contestants seemed to be making use of the public boat launches without any issues, he added.
By Friday afternoon there were more than 200 fishermen registered in the derby. With registrations closing at noon on Saturday, Cyr said he expects the number of participants to reach about 300, which is about what it has been the past several years.
Cyr had spoken with anglers who hailed from other parts of Maine as well as New York and Vermont. Some previous visitors had brought friends with them this year.
"That's what happens," he said. "They enjoy visiting and they bring their friends back next time."
The weigh station in Fort Kent will be open 9 a.m. to 7 p.m. on Saturday and from 9 a.m. to 5 p.m. on Sunday. The derby winners and other prizes will be announced at 6 p.m. Sunday at the headquarters tent.
On Friday, the Lions Pavilion at Riverside Park once again hosted a craft fair, a recent addition to ploye festivals. Crafters, artists and entrepreneurs offered a variety of items, while volunteers with the Greater Fort Kent Chamber of Commerce were cooking up ployes.
"Things are going very well," Chamber Executive Director Dona Saucier said Friday afternoon.
"I spoke with a person today who asked, 'Where will all the ployes be this weekend? We came just to try one.' So, some people are visiting us for the first time," said Saucier.
Friday afternoon also featured jumping frogs in a contest for youngsters. The event originally was introduced at last year's fall Scarecrow Festival, but Saucier said organizers moved it to the summer Ploye Festival, when the frogs are more active.
In addition to the craft fair, Saucier said some downtown merchants would be participating in a sidewalk sale on Saturday.
Saucier said that the Boy Scout and Lions Club barbecue fundraiser held Thursday was successful with 1,000 meals sold, and that tickets for the local Masons Lobster Feed fundraiser on Saturday were scarce. Other local community groups around town are also staying busy serving hotdogs, hamburgers, lobster rolls and ployes.
With the popular fireworks planned for dusk, or about 9 p.m. Friday, the chamber director expected a lot of foot traffic between Riverside and downtown.
"Those kinds of things; that's all good," Saucier said Friday afternoon.
Saturday's Ploye Festival activities include the Northern Maine Antique Tractor Club Tractor Pull near Rough Roads Repairs on Market Street, from 10 a.m. to 3 p.m., and Rural Living workshops from the University of Maine Cooperative Extension, at Riverside park from 10 a.m. to 12 p.m.
Those looking for good eats while checking out the festival and derby events on Saturday may find food at the local Rotary and American Legion concession stands downtown. The Mason's Lobster Feed will take place from 4:30 p.m. to 9 p.m. at Riverside park.
The full Ploye Festival and Muskie Derby schedule may be found at www.fortkentchamber.com/ploye-festival.html and Saucier said updates and more information may be found at the "ployefest" Facebook page.