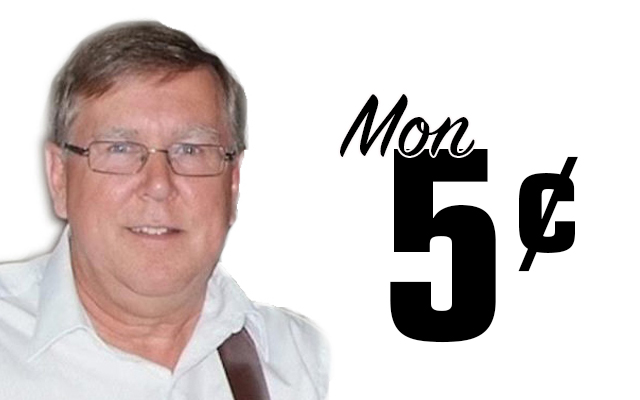 Bonne fete aux Acadiens
Bonne fête aux Acadiens le 15 août. Le grand tintamarre est a Madawaska c't'année. Y va avoir une grosse show après ça. Ont s'voira la, j'pense b'en.

Valley French
For those of you who are linguistically challenged and don't read French, don't feel bad, many us in the St. John Valley don't either because we never learned French in school. There's no doubt that we speak French and it is a French understood by most every Francophone on the planet if we take our time. But we have our own accents, our own sayings, our own metaphors, our own peculiarities. C'est normal.
Boutoné en jaloux
J'ai boutoné ma ch'mise en jaloux. Éyousque ça d'vien s't'expression la? Pourquoi qu'ont dit "boutoné en jaloux" quand qu'ont commence a boutoner par le mauvais trous? C'tais qui s'jaloux la qui boutonais mal sa ch'mise?  J'cré b'en qu'ont saura jamais. C'est probablement des pensées de même qui m'on empêché d'être riche.
Conte
Comme vous savez probablement, presque chaque village avais un conteu d'histoire. Pas des jokes, mais des vieilles histoires qu'il avais apris d'un grandpère, par example. Le conteu passais les histoires au enfants en espèrant que les enfants les passerais a leurs enfants, etc.
Conte en serie
Je commence a vous conter un vieux conte de P'tit Jean que j'ai recordé quand j'étais a UMFK pi que je travaillais pour le prof Roger Paradis. But I'll have to split it into chapters. Here is the first chapter:
Ti-Jean (Premier chapitre)
Une fois y'avais un p'tit gah qui s'appelais Ti-Jean. Y avais a peut près ton âge pi y restais dans un village pas b'en loin d'icitte pi qui r'semble pas mal a celle citte. Ti-Jean restais seul avec sa mére parce que son pére étais partis bucher du bois au santchier.
Une bonne journée la mére a Ti-Jean y dit, "Ti-Jean, j'veut que tu alle au magasin achêté du lait." Ti-Jean répond toute suite, "Oui, maman," pi y part.
Avant d'être rendu au magasin, Ti-Jean a aperçu un vieux assis tous seul su' un banc avec un damier. "Bonjour, Ti-Jean," dit le vieux. Ti-Jean connaissais pas le vieux mais il répond poliement, "Bonjour, monsieur." Le vieux dit, "Voudrais tu jouer une game de dame avec moué?" Ti-Jean dit qu'il faulais qu'y alle au magasin achêter du lait pour sa mére. "Juste une game, ça prènera pas temps," dit le p'tit vieux. "B'en, okay," dit Ti-Jean, juste pour être poli.
(Mais P'tit Jean vien d'embarquer dans un piège! Je continue le conte la prochaine fois qu'ont s'parle.)
Don Levesque is a Grand Isle native who worked in community journalism for almost 35 years. He was the Publisher and Editor of the St.. John Valley Times for 15 years prior to retiring in 2010. He wrote a weekly newspaper column, called Mon 5¢, in the Valley Times for more than 20 years. He has been inducted into the Maine Journalism Hall of Fame and the Maine Franco-American Hall of Fame.