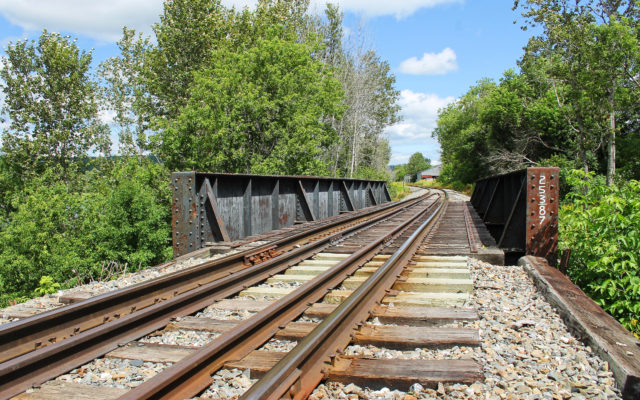 41887221_H21003844
Rail bridges such as this one crossing Dickey Brook in Frenchville are slated for repairs or replacement in the next three years as part of a nearly $16 million Maine Northern Railways project. Nearly half of the cost is being funded with a grant from the U.S. Department of Transportation. (Don Eno | SJVT/FhF)
Nearly $16 million in work to strengthen rail system in Aroostook, northern Penobscot
WASHINGTON D.C. — The federal government is kicking in about half of nearly $16 million to repair and strengthen a total of 22 bridges along a 115-mile stretch of north-south rail owned by the state and leased by a division of Irving Transportation Services.
The project will allow the Maine Northern Railway to carry more freight and improve possibilities for job growth.
The Maine Northern Railway is six years into a 30-year lease with the state to operate the rail line, which the state purchased in 2010 from Montreal, Maine & Atlantic Railway. MNR is a holding company of Canadian-based J.D. Irving Limited.
The portion of track, referred to by MNR as its "Madawaska Subdivision," where the bridge renovations and replacements will occur, is part of 176 miles of track between Millinocket and Madawaska. Other MNR tracks include short spur lines in central and southern Aroostook County and Van Buren, which are not included as part of this overall $15,780,000 Maine Railroad Bridge Capacity Project.
The project is being funded in part by $7.89 million in federal grant funds, according to separate press releases issued earlier this month by U.S. Sen. Susan Collins and U.S. Rep. Bruce Poliquin.
The rail bridges to be repaired or replaced are located from Grindstone Township in northern Penobscot County to Smyrna, St. Croix, Ashland, Eagle Lake, Fort Kent and Frenchville in Aroostook.
Nate Moulton, director of the Maine Department of Transportation's Rail Program, said Monday there were no safety issues with any of the bridges, which range in span from nine to more than 600 feet.
Rather, the repairs will improve the carrying capacity of rail cars and the speed they can travel over the bridges, which will make the line more efficient, Moulton said.
"Last year we inspected all of them and rated them for weight and speed," he said.
MNR has had to slow down trains in some locations, because the crossings are not rated to handle both the speed and weight of modern freight.
In the early 1990s, most major rail lines began accepting railcars with a gross vehicle weight of 286,000 pounds, which is today's Class 1 standard, according to Moulton. Currently, the MNR bridges involved remain at the previous 263,000-pound standard.
Moulton said the bridge repairs, along with other improvements MNR has made in the past several years, will allow the company to carry more freight and be a more economically attractive option.
"We move a variety of freight, including wood chips, logs, paper, lumber, wood pulp, wallboard and clay," said Irving's Vice President of Communications Mary Keith.
Neither Keith nor Moulton could comment on specific amounts or the estimated value of that freight, because such data is considered confidential business information.
Moulton said other freight, such as heating oil, propane and chemicals also are transported on the MNR and other rail lines in the state.
The $60 billion, 140,000-mile U.S. freight rail system moves more freight than any other freight rail system in the world, according to the U.S. Department of Transportation.
"Our (rail services) workforce has grown from 58 people in June 2011 to about 120 today," some of which are seasonal, Keith said. "This investment is good news for our employees, suppliers and customers and will improve the reliability and efficiency of the service."
Irving is investing $2 million in the bridge project, as matching funds required as part of the U.S. DOT's Fostering Advancement in Shipping and Transportation for the Long-term Achievement of National Efficiencies or "FASTLANE" grant program.
The remaining funds will come from Maine's DOT, which will provide $5,640,000, and the federal/state collaborative Northern Border Regional Commission, which will put up $250,000.
The bridges include small concrete slab crossings, I-beam spans, large concrete arches and iron plate and girder style structures.
The construction cost of repairs for individual bridges ranges from $170,000 to $4.5 million, according to information provided by Maine DOT. The most expensive bridge work will occur in Ashland, where a 600-foot span "deck truss bridge" crosses the Aroostook River. Nearly $3 million will be spent to strengthen and repair its trusses.
Only the superstructure of three bridges in Smyrna and Grindstone, each less than 30 feet in span, are slated to be replaced. Construction is scheduled to take place over the course of three years, starting this fall.
Prior to the state purchasing the former MMA rail line in 2010, freight traffic on it had dwindled below 5,000 carloads per year, according to MDOT.  Freight volumes have more than tripled since then, with approximately 17,000 carloads in 2016.  
This new FASTLANE grant is projected to increase that capacity by an additional five percent per year, "based on existing customer feedback and potential new business on the line," according to the MDOT grant application.
Maine's rail transport system also benefitted two years ago when the federal government awarded the state $20 million to rehabilitate 384 miles of track. In 2010, $10.5 million in federal funds were awarded to repair and improve what was at the time the Montreal, Maine and Atlantic Railway lines in Aroostook and Penobscot counties.
"This FASTLANE grant is a critical piece of funding for the upgrades and improvements of railroad bridges in northern Maine," MDOT Commissioner David Bernhardt said in the joint statement released by Sen. Collins, citing the importance of partnerships between the public and private sectors.
Rep. Poliquin added in a separate release that "Maine's infrastructure — our roads, bridges, railroads, airports and seaports — is essential to our state's economy and job growth."