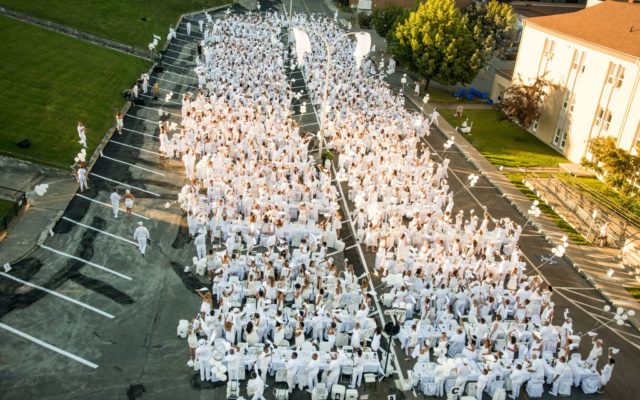 DINER_EN_BLANC_2016_EDMUNDSTON_PHOTO_MICHEL_CARRIE_20951858
Guests wave a white napkin to signal the beginning of the 2016 Diner en Blanc in Edmundston, New Brunswick. (Contributed)
Edmundston to host Diner en Blanc later this month
The organizers of Le Diner en Blanc are getting ready to host their fifth annual elegant picnic featuring dinner, dancing, and live music on Thursday, Aug. 24.

The first Diner en Blanc took place in Paris, France, almost 30 years ago. Over the years, the event has grown internationally and now takes place in over 80 major cities around the world.  Guests dress in all white and gather to dine in elegance. Each year, the dinner is hosted in a different location, which is kept secret until guests arrive by bus.
The event arrived in Edmundston in 2013. Janel Ouellet, co-president of the local Diner en Blanc organization, was in Paris a year or two earlier when she saw her first such dinner taking place.
"I liked what I saw. So when I returned home, I applied to become a member of the international committee. I wrote to the Diner En Blanc president, Aymeric Pasquier, for a year," said Ouellet. "It took a while for him to respond because it is always in big cities, and we're small. Finally, he accepted, and we started in 2013."
"Everybody is in white. Everybody is equal, no matter if you show up in a $10 dress or your wedding or prom dress," said Ouellet. "There are no VIPs or executive distinction. Everyone pays to be a part of the night. It's nice to be well dressed and have a nice meal with friends, and to meet people."
Guests who wish to attend can register online. The registration process has three phases: phase one is for members who attended the previous year and are invited to return; phase two is for those people invited by members who have previously attended; and phase three is open for new members to register and sign up for the waiting list.
Phase three of the registration opened July 27, and will be open until Aug. 20, at 11 p.m. Once guests are accepted, attendance is mandatory, rain or shine.
Guests are required to bring their own square tables, chairs, cloth napkins, silverware, decorations, trash bags, glassware, and a bag for their food, all in white. Food can be brought from home, or ordered online during the registration process. There are nine catering options that are available for attendees to choose from, for an extra cost.
In previous years, 900 people have attended the Edmundston event and organizers hope attendance continues to grow. Past gatherings have been held near Edmundston City Hall, the Center des Arts, on the University of Moncton campus, and the Cathedral of the Immaculate Conception.
When guests arrive by bus to the secret location, they all work together to set up their tables and chairs. When everything is prepared, guests wave a white napkin in the air for one minute, to signal the start of the dinner. After eating, each guest receives a sparkler to participate in a sparkler show, before the dance floor is open for the night. All attendees stay until 11 p.m., when the dinner and dancing comes to an end. When the evening is over, guests must take their table, chairs, and garbage back with them.
The price for the evening is $75 per couple. Guests have to sign up in pairs. The cost of the evening includes transportation, music, lights, photography, security, and both the Diner En Blanc Edmundston and Diner En Blanc International memberships.
Guests from Canada and the United States are welcome. To learn more about the event and to register, visit https://edmundston.dinerenblanc.com/