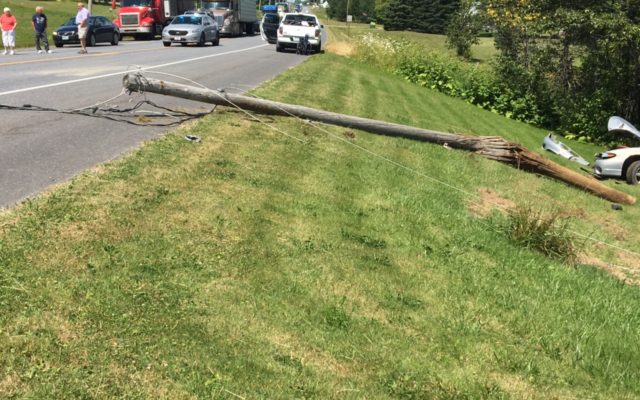 IMAGE3_20960682
A driver fell asleep, went off the road and crashed into a utility pole on Route 1 in Bridgewater on Tuesday, Aug. 1. (Courtesy/Aroostook County Sheriff's Office)
Driver falls asleep, crashes into pole in Bridgewater
BRIDGEWATER, Maine — U.S. Route 1 in Bridgewater was closed to traffic for about an hour Tuesday afternoon after a driver fell asleep at the wheel and crashed into a utility pole, according to the Aroostook County Sheriff's Office.

Scott Strid, 36 of Fort Fairfield, was driving north in a 1999 Pontiac Grand Prix when he fell asleep, went off the road and struck a utility pole that broke off and brought down electrical wires, said Deputy Sheriff Alishia Ledger.
After Strid crashed, a second driver in a 2014 Ford pickup, Donald Ouellette, 64 of Hampden, struck the downed wires, Ledger said.
Neither Strid nor Ouellette were injured and both were wearing seatbelts, according to Strid. Ouellette's vehicle suffered some front damage, while Strid's was towed due to "disabling damage," Ledger said.
Route 1 was closed for about an hour due to the downed wires and reopened later Tuesday afternoon.