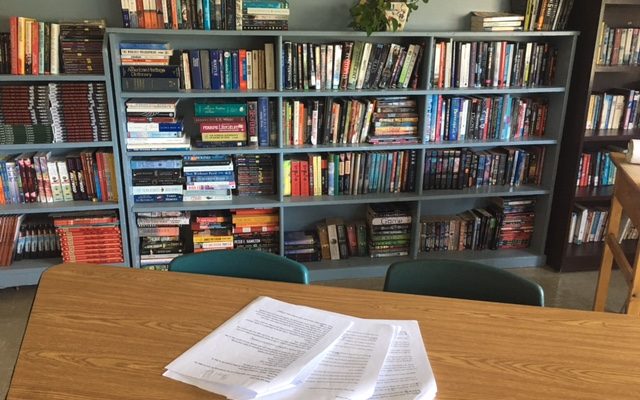 IMG_1085_20932382
Students in Lorie Voisine's English III class at Fort Kent Community High School, wrapped up the last school year with their own creations of slam poetry. (Contributed/Lorie Voisine)
Educator shares student's impressive creation of slam poetry
Slam poetry is a genre of poetry that allows the author a voice to express concern over personal or global issues, both through written and spoken language.  It taps into the writer's/speaker's emotion and evokes emotion from the reader or listener as well.  

After having completed a study of rhetorical techniques earlier in the year, I chose to wrap up the school year of my Fort Kent Community High School English III class — a group of students I have taught for two consecutive years — with a slam poetry unit.  
After viewing several performances of slam poetry and reading countless slam poems, students constructed and performed their own slam poetry.  
I was very impressed with my students' creations.  All were very unique and powerful, each in their own way, so it was difficult to choose one to share with readers of the Fiddlehead Focus and St. John Valley Times.  
In the end, I chose this one:
"My Little Town in the Middle of Nowhere"
by Devin Voisine
This town is nothing but potato picking hillbillies and rednecks.
Over the years, I've heard it all,
every harsh word that insults such a beautiful place,
every Facebook rant about how we're no good
and we're all high school dropouts.
It seems like the more we grow up,
the more we don't like it here,
but the minute we leave,
we want to go home.
We're too much of a family town here, people say.
We all know each other's lives.
We all know what everyone's doing
and where everyone's going on the weekend.
Coming from a small town, we don't see
that it's a big world out there,
a big scary world that is scarier than the pits of hell.
What I don't get is how people don't see
this town as a better place,
a very special place, to be exact,
somewhere where you can leave your doors unlocked when you leave for work,
always knowing you're welcome at another's place.
We can yell out our front window and ask our neighbor for eggs
after church on a Sunday morning,
knowing that we always get a helping hand.
Again, people say this town is full of potato picking hillbillies and rednecks.
Well, I can say that I'm scared to leave home
because home is the smell of fresh cut spruce and newly turned over fields.
Who would want to leave this town
and miss the sunrises and sunsets over the valley hills?
We've got two stop lights that we know exactly when they turn green.
We know more names of dirt roads
and where they go than any tarred road in town.
Living somewhere we've lived for so long
and have gotten so attached to
is a brightening feeling,
a feeling that makes us appreciate where we came from,
and what we're worth to the town.
Home is home, and it will always be a place
I will never forget.
Even when I'm sixty,
I will still think of all the tree forts I built
and I will remember where every one is.
Born and raised here, blood, sweat, and tears here,
and one day,
I will be six feet deep
on the same grounds I grew up on, here.