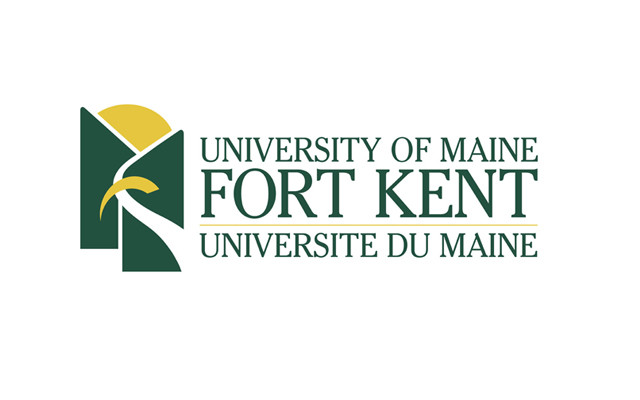 UMFK_logo_feature
University of Maine at Fort Kent logo. (Contributed image)
UMFK releases spring dean's list
FORT KENT, Maine — Dr. Steven Gammon, vice president for academic affairs at the University of Maine at Fort Kent, has announced that 254 full-time and 193 part-time students were named to the dean's list for the spring 2017 semester.
"We are pleased to celebrate the exceptional academic achievement of the students who have made the UMFK Dean's list," said Dr. Steve Gammon. "Appointment to the Dean's list is a notable achievement that that reflects a deep commitment to learning and excellence. We are fortunate and proud that these talented students have chosen UMFK to meet their educational goals."
Students attaining the honor must be degree candidates, enrolled as a full-time student or a part-time student, and must maintain a 3.20 grade point average on a 4.0 scale for the semester with no grades below a "C."
FULL-TIME DEAN'S LIST
St. John Valley students
EAGLE LAKE: Max Bertrand, Kristina DeVincentis, Ariel Jeffers, Nicole Pinette and Donna Twombly.
FORT KENT: Joshua Anderson, Emmanuella Anyika, Ty Beal, Duane Belanger, Steffany Caron, Michelle Cyr, Lea Freeman, Kasey Freston, Casey Hudson, Odean Irons, Max Jandreau, Tasha Jeffers, Subechhya Koirala, Alex Levesque, Karina MacLean, Jessica Madore, Rebecca Martin, Stacy Martin, Shane Morin, Danielle Pelletier, Demi Pelletier, Daniel Plourde, Mikeala Risch, Nicolas Rivera, Katelyn Roy, Mackenzie Saucier, Camryn Smith, Andy Theriault, Tony Valcourt and Megan Wardwell.
FORT KENT MILLS: Vanessa Petti.
FRENCHVILLE: Jessica Boynton, Alicia Daigle and Vanesa Pelletier.
MADAWASKA: Elizabeth Beaulieu, Ashleigh Bonar, Chelsea Cyr, Samuel Dechaine, Lory Guerrette, Mariah Hebert, Joseph Levesque, France McDermott, Janelle McGee, Amber Ouellette, Abigail Pelletier, Brittany Pelletier, Amanda Trhlin, Caroline Worcester and Sesie Young.
NEW CANADA: Georgianna Wilmer.
ST. DAVID: Brittney Beaulieu, Faith Beaupre, Katie Cyr, Lucas Gendreau, Katie Hebert, Alex Levesque and Amy Shaw.
ST. JOHN PLANTATION: Kristine Marin, Meagan Pelletier and Markus White.
SINCLAIR: Erin Sandstrom.
VAN BUREN: Felisha Bouchard, Natasha Ouellette and Melanie Pelletier.
WALLAGRASS: Samantha Beaulieu, Stefan Petricevic and Taylor Roy.
Aroostook County students
ASHLAND: Wyatt Condon.
BLAINE: Courtney Milliard.
BRIDGEWATER: Molly Anthony.
CARIBOU: Constance Anderson, Victoria Hanson, Alexa Massey and Lisa McLellan.
CONNOR TOWNSHIP: Brittnie Hodsdon.
EASTON: Nicholas Clark and Chelsey White.
FORT FAIRFIELD: Logan Bubar, Beth Johnson and Sarah Watt.
HODGDON: Samantha Williams.
HOULTON: Emily Fitzpatrick, Lucas Grant and Seth Hannigan.
MAPLETON: Kayla Buck.
NASHVILLE PLT.: Alexander Gillis.
PERHAM: Matthew McCarty.
PRESQUE ISLE: Amanda Bagley, Jessia Baldwin, Keanna Daniels and Krystal Kingsbury.
SHERMAN: Megan Cole.
STOCKHOLM: Kendra Coffin.
WOODLAND: Joshua Zappone.
Students from elsewhere in Maine
ACTON: Son Nguyen. AUGUSTA: Hannah Ainslie, Megan Mawhinney, Abigail Naborowsky, Courtney Porter and Samantha Rhoten. BAILEYVILLE: Hope Hayward. BANGOR: Keely Markevich, Jenna Marshall and Zakiah-Lee Meeks. BENTON: Sarah Wright.
BERWICK: Anna Luke and Sharon Plucker. BIDDEFORD: Stephanie Duval. BLUE HILL: Cedar Slagle and Katrina Walls. BOOTHBAY HARBOR: Dana Greenleaf. BOWDOIN: Rebecca Brown. BROOKSVILLE: Jasmine McDonald.
BREWER: Kala Grant. BRIDGTON: Markie Casagrande. BRUNSWICK: Emily Austin and Alexandra Lynch. BUXTON: Kathryn Hayes. CALAIS: Royann Lozier. CORINNA: Megan White. CORNISH: Nicholas Anderson. EDDINGTON: Emma Reynolds.
FRYEBURG: Victoria Leavitt. GARLAND: Deanna Genovese. GORHAM: Carissa Pelletier and Daniel Rodgers. GRAY: Chad Kelsey. GREENE: Taylor Woodbury. GREENVILLE: Corey Henderson. GREENVILLE JUNCTION: Tricia Sherman. GUILFORD: Catherine Williams.
HAMPDEN: Nicole MacDougall. HOPE: Douglas Hayward. HUDSON: Kelsey Farr. JONESPORT: Holly Archer. LAKEVILLE: Shane Averill. LAMOINE: Nancy Graham. LEE: Miranda Bowker.
LEWISTON: Nashwa Abdalla, Shayla Pontbriand and Ryan Veilleux. LIMERICK: Jane Pettit. LINCOLN: Elise Arnold. LINCOLNVILLE: Isaac Young. LITTLETON: Jonathan Buza. LIVERMORE FALLS: Adam Wilcox. MATTAWAMKEAG: Katrina Kinkead.
MILFORD: Sara Bickford. MILLINOCKET: Jessicca Girsa. MILO: Destiny Ray. NAPLES: Abigail Craffey. NEW VINEYARD: Shawnee Ellis. NORTH BERWICK: Caleb Lewis and Amanda Pilecki. OAKFIELD: Brooke Lilley. OLD ORCHARD BEACH: Donald Young.
OLD TOWN: Rece Chappelle. OXFORD: Jordyn Sanborn. PATTEN: Lucas Anderson. PERRY: Megan Patterson. PERU: Brittney DeRoche. PHILLIPS: Lyndsay Beane. PITTSTON: Jennifer Liscomb. PORTLAND: Faisal Ismail. ROCKPORT: Evan Drinkwater and Brittany Rice.
SABATTUS: Heather Krook. SANGERVILLE: Logan Dow. SEARSPORT: Kyle Blake. SEBAGO: Danielle O'Connor. SIDNEY: Kai Smith. SKOWHEGAN: Kamden Brown. SOUTH CHINA: Noelle Wrigley. SUMNER: Hateya Levesque. TURNER: Jamie Dozois.
VASSALBORO: Isaac White. WALDOBORO: Alisa Kidney. WARREN: Kimberly Reed. WATERVILLE: Ryan Donovan and Therese Nickerson. WESTBROOK: Grace Conant and Jennilee Witham. WHITEFIELD: Jenna Ibbitson. YORK HARBOR: Nathaniel Duquette.
Students from elsewhere in the US
CAMPBELL, CA: Kelsi Lanphear. HAYWARD, CA: Cristina Mendoza. LINDSAY, CA: Adriana Gutierrez. LONG BEACH, CA:: Travis Harlin. LOS ANGELES, CA: Shannon Seegmiller-Weathersby. RIVERSIDE, CA: Alexandra Cardenas and Brook Wooldridge. SAN RAMON, CA: Xiang Tan. STRATHMORE, CA: Cody Chapa.
SUISUN CITY, CA: Rosevelt Smith. THOUSAND PALMS, CA: Anna Kleckerova. TRACY, CA: Peace Agunanne and Iheanyichi Nwankwo. YUBA CITY, CA: Adam Blank. BRIGHTON, CO: Jenacie Klinger. DELTONA, FL: Madison Fenner. ORLANDO, FL: Rachael Robinson. TAMPA, FL: Felicia Mensah.
LEXINGTON, KY: Hampton Vaughan. BROCKTON, MA: John O'Connor. DEDHAM, MA: Mackenzie Farrell. HUDSON, MA: Ryan Buttrick. TEMPLETON, MA: Emily Couture. TOWNSEND, MA: Patrick McAuliffe. BRUCE TOWNSHIP, MI: Andrea Littmann.
BABYLON, NY: Alicia Barron. BETHLEHEM, NH: Calyn Brown. FARMINGTON, NH: Mikaela Paluszek. JAFFREY, NH: Peggy Noddin. LOUDON, NH: Alexa Silakka. LINDENHURST, NY: Kelly Post. JUNCTION CITY, OR: Samantha Jackson. NORTH PROVIDENCE, RI: Noah Grantham-Coogan.
CONROE, TX: Amairani Carbajal. COPPELL, TX: Cecilia Efuetlacha. HUMBLE, TX: Savana Jankowski. KILLEEN, TX: Njukam Loveline. FAIRFAX, VT: Evan Michaud. MILTON, VT: Alexander Fenton. NORTH HERO, VT: Lance Douglas. TACOMA, WA: Brandi Smith.
Canadian and International Students
HALIFAX, NOVA SCOTIA: Grace MacKenzie. DELHI, ONTARIO: Kendra Freund. DEUX-MONTAGNES, QUEBEC: Brianna Mills. SAINT-EUSTACHE, QUEBEC: Catherine Bruno.
GUAYAQUIL, EQUADOR: Ericka Garino. GREAT NINGO VOLTA, GHANA: Daniel Agborkey. RHODES, GREECE: Konstantinos Koustas. MANCHESTER, JAMAICA: Damion Rankine. MONTEGO BAY, JAMAICA: Ruth-Ann Lorman and Cameika Davis.
PORT ANTONIO, PORTLAND, JAMAICA: Glenroy Osbourne. ST. ELIZABETH, JAMAICA: Garth Banton, Kimar Smith, Mark Parchment and Christopher Tillock. BAR, REPUBLIC OF MONTENEGRO: Niko Vukosavovic.
EDINBURGH, SCOTLAND: Lewis Cockburn. GAUTENG, SOUTH AFRICA: Ryan Merckel. EL MASNOU, SPAIN: Carlos Crusat Lopez. CHERNIVTSI, UKRAINE: Oksana Kryniuk. ODESSA, UKRAINE: Kateryn Vaypan. IBIS GARDENS CARONI, TRINIDAD & TOBAGO: Joash Romain and Romario Romain.
PART-TIME DEAN'S LIST
St. John Valley students
ALLAGASH: Shelby Taggett.
EAGLE LAKE: Michael DeLena and Mary Watson.
FORT KENT: Samantha Boucher, Alexis Desjardins, Kristie Gagnon, Arianne Kryskow, Kenadi Labbe, Ted Martin, Amanda Ouellette, Cathy Roy, Keianna Sirois and Katelin Voisine.
FRENCHVILLE: Lynn Oakes, Arika Roy and Taylor Roy.
MADAWASKA: Alex McNally.
NEW CA:NADA: Amber Devoe.
ST. DAVID: Kimberly Dionne.
VAN BUREN: Kim Gendreau and Dennis Michaud.
Aroostook County students
BLAINE: Kristen Long.
CARIBOU: Megan Doody, Erik Jandreau, Scott Michaud, Vicky Ouellette and Nicky Pelletier.
EASTON: Tammi Flint.
FORT FAIRFIELD: Lori Bishop, Shelley Brooks, Stephanie Dame and Liane Norsworthy.
HERSEY: Hannah Streinz.
HODGDON: Jillian Miller.
LIMESTONE: Kimberly O'Bar.
LITTLETON: Destiny Prosser.
MAPLETON: Heather Sherman.
MARS HILL: Charlotte Grass.
OXBOW: Christina Stadig.
PRESQUE ISLE: Benjamin Costello, Nancy Cray, Kimberly Cushman, Lindsey Michaud, Caitlyn Roix and Kim White.
WESTFIELD: Kacey Hammond.
WOODLAND: Kristin Plante.
Students from elsewhere in Maine
ALBANY TOWNSHIP: Karen White. AMHERST: Katie Ferrill. ARROWSIC: Dawn Thibeault. AUGUSTA: Eliza Burke and Brooke Joy. BANGOR: Danielle Davis, Catherine Schureman, Nicole Stinson, Sheri Tarr and Curtis York.
BELGRADE: Rebecca Day. BENTON: Elizabeth Doyen and Elise Presby. BIDDEFORD: Sara Hebert and Donna Masi. BLUE HILL: Lindsey Carter. BRADLEY: Kelsey Gifford. BREWER: Amber Bennick and Stacey Thornton.
BRUNSWICK: Chad Ceccarini, Caitlin Hayward and Katherine Staples. BUXTON: Shawna Dufresne. CALAIS: Taylorae Carter. CAMDEN: John Tooley. CAPE NEDDICK: Gia Fillmore. CHESTER: Ashlee Jipson. CUMBERLAND CENTER: Anne Grandchamp.
DETROIT: Kristen Switzer. DEXTER: Brooke Chambers. DOVER FOXCROFT: Nicholas Cannon. EAST WATERBORO: Stacy Verrell. EDGECOMB: Tara Cunningham. ETNA: Angel Francini. FARMINGDALE: Jessica Blake and Violet Hyatt.
FARMINGTON: Lauren St. Laurent. FREEDOM: Victoria Wood. FREEMAN TOWNSHIP: Ella Fast. GLENBURN: Marjorie Turner. GORHAM: Aaron Padula. GREENVILLE: Michaella Gilbert. HAMPDEN: Linda Marsh. HARPSWELL: Breanna Austin and Danielle Overmiller.
HERMON: Quincie McCluskey and Logan Trembley. HOPE: Jeannine Boutin-Lesage. HUDSON: Judith Whitmore. INDIAN ISLAND: Margaret King. JAY: Courtney Bubier. JEFFERSON: Shani Healey. KENNEBUNK: Heather Mathews. LEEDS: Nicholas Whitmore.
LEVANT: Stephen Burgess and Jennifer Stinson. LEWISTON: Melissa Becvar, Candace Bickford and Amer Langlois. LIMINGTON: Brittany Pelletier. LINCOLN: Crystal Landry. LINCOLNVILLE: Jamie Messier. LISBON FALLS: Hannah Goss. LITCHFIELD: Melissa Moody.
LIVERMORE: Amy Marston. LIVERMORE FALLS: Katherine Rollins. LOVELL: Elizabeth Hurd. MACHIAS: Dana Lang. MADISON: Nathalie Michaud. MILFORD: Jaime Guerrette. MILLINOCKET: Shawn Cyr. MOUNT DESERT: Joyce Macintosh.
NOBLEBORO: Jill Simmons. NORRIDGEWOCK: Danielle Libby. NORTH ANSON: Frances Caron. NORTH MONMOUTH: Julia DeStefano. NORTH WATERBORO: Eric Jackson. ORLAND: Megan Greenlaw. ORONO: Elizabeth Hardison. OWLS HEAD: Shannon Stone.  
PALMYRA: Lorna Rowe. PENOBSCOT: Cynthia Wailus. PHIPPSBURG: Cynthia Kenney. PITTSFIELD: Michelle Batchelder. PITTSTON: Carla Ahearn. PLYMOUTH: Kezzie Woodbury. PRINCETON: Sarah Curtis. RAYMOND: Jennifer Britting and Nicole Thibeault Furlong. ROCKLAND: Jessica White.
ROCKPORT: Hannah Demmons and Jenna Twitchell. SAINT ALBANS: Amanda Erskine. SANFORD: Danette Tekelenburg. SCARBOROUGH: Curran LeComte. SEARSMONT: Holly Anderson. SEBEC: Devon Malay. SIDNEY: Kristina Bonney and Samantha Wenzel.
SKOWHEGAN: Kimberley Baiko and Elizabeth Chipman. SOMERVILLE: Angel Mayo. SOUTH CHINA: Sarah Basham. SOUTH PORTLAND: Marybeth Riley. STEEP FALLS: Lisa Starostecki. SULLIVAN: Jessie Daley and Tashia Daley. TRESCOTT TOWNSHIP: Stephanie Lavigne.
UNITY: Desirae Hubbard. VASSALBORO: Breann Schopmann. VEAZIE: Stacey Smart. VIENNA: Ashley Smart. WARREN: Nicole Harriman. WATERFORD: Jenefer Timm. WATERVILLE: Jody Goodwin and Katherine Pelotte.
WELLS: Elizabeth Matoin. WEST GARDINER: Jessica Rankin. WESTBROOK: Nicole Williams. WINDHAM: Carrie Kennedy and Monica Martinez. WINDSOR: Sammi-Jo MacFarland. YARMOUTH: Kaylen Randall. YORK: Siobhan Mantell.
Students from elsewhere in the US
JBER, AK: Justin Morin. ATWATER, CA: Tiara Nolen. Los Angeles, CA: Victorine Omes. SAN FRANCISCO, CA: Fletcher Brown. SAN JOSE, CA: Sarah Locke. OVIEDO, FL: Jessica Kozachuk. BOSTON, MA: Timothy Boyle. LAKEVILLE, MA: Victoria Gavin. STRAFFORD, NH: Jamie Clark. CARY, NC: Seunghyun Sparacio. GREENVILLE, SC: Margaret Galipeau.
Canadian and international students
LONDON, ONTARIO: Emma Ashby. GLASGOW, SCOTLAND: Kyle Robin. PAISLEY, GREAT BRITAIN: Jamie Reid. CITE SOLEIL, PORT-AU-PRINCE, HAITI: Frantzceau Germain. EBEYE, MASHALL ISLANDS: Anderson Edmond. MAJURO, MARSHALL ISLANDS: Thompson Dooley, Rod Lanwe, Lumis Maujen, Marson Ralpho and Peter Robert.