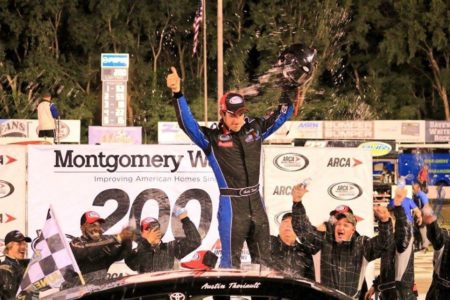 Austin-wins-at-Madison-by-Matt-weaver-450×300
Fort Kent's Austin Theriault celebrates with his crew in Victory Lane at Madison International Speedway. (Photo courtesy Matt Weaver)
Win Three For Maine Racer Theriault
Running in the fifth and sixth positions in the early part of Friday's ARCA race at Madison International Speedway in Oregon, Wisconsin, Theriault needed a couple excellent pit stops to put him in the right position to grab the lead.

"It was important. It allowed us to be in a position to win," said Theriault. "We were the first best car on fresh tires which allowed us to play offense and defense at the same time."
With 15 laps to go it looked like the #15 car of Christian Eckes would get by Theriault, however, a caution flag allowed Theriault to regroup. On the restart Eckes fell back while Zane Smith moved into second to challenge for the lead.
On the last lap, Theriault used lapped traffic to his advantage winning the race by two car lengths over Smith. Riley Herbst finished third, with Shane Lee in fourth and Christian Eckes in fifth. With the win Theriault's points lead grew to 175 over second place Dalton Sargeant.
The Fiddlehead Focus / St. John Valley Times is pleased to feature content from our sister company, Bangor Daily News. To read the rest of "Win Three For Maine Racer Theriault," an article by contributing writer Tom Hale, please follow this link to the BDN online.