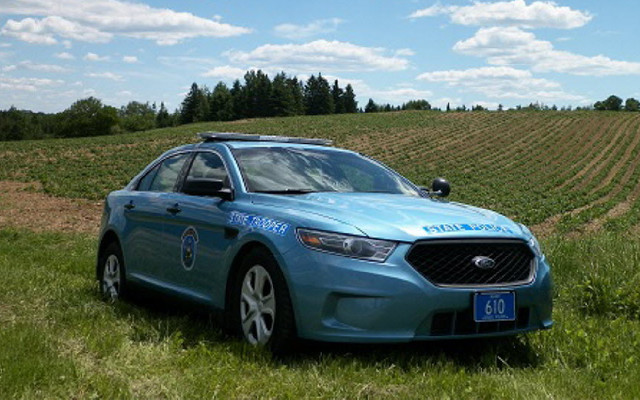 MSP_F
Maine State Police - Troop F - Aroostook County.
Troop F Report — June 2017
Editor's Note: An arrest or summons does not constitute a finding of guilt. An individual charged with a crime is presumed innocent unless and until proven guilty at criminal proceedings.
HOULTON, Maine — The Maine State Police Troop F barracks in Houlton responded to 150 calls for service during the period of June 5-11.

Sunday, June 11
St. Agatha: Tr. Desrosier was patrolling in Saint Agatha and observed a pickup pass another vehicle at a high rate of speed (76 mph in a 50-mph zone). When he stopped the 21-year-old male he suspected he was intoxicated. The man failed field sobriety testing and was arrested for OUI. There was an open 12-pack of beer in the back seat.
Easton: On the above date at around 0005 hours Tr. Pescitelli was on patrol on the Ladner Road in Easton. As he was driving he noticed an individual standing in a parking lot that he had recognized from previous complaints. Tr. Pescitelli remembered that this individual had an active warrant for his arrest. After confirming the warrant the individual was arrested without incident.
Saturday, June 10
Island Falls: Tr. Saucier initiated a criminal mischief investigation after receiving a report from a resident that tombstones had been overturned and damaged in a local cemetery. It was later discovered that the stones had been moved as part of maintenance work to the cemetery and markers.
Friday, June 9
Caswell: Tr. Pescitelli received a complaint about a theft that had occurred at the local store in Caswell. A woman who had been ordered not to return to the business from a previous theft was seen on video surveillance going into the store during business hours. She then proceeded to conceal $10 worth of packaged meat in her pants. The woman was located hours later and arrested for Burglary and Violation of Conditions of Release.
St. Agatha: Tr. Curtin responded to a motorcycle crash on Flat Mountain Rd. in Saint Agatha. It was reported that a female had fallen off a motorcycle and needed an ambulance. Tr. Curtin responded to the scene and his investigation revealed that a male teenager from Frenchville had been the operator of the motorcycle. He had been traveling on Flat Mountain Rd. in St. Agatha with a female passenger on his 2008 Yamaha motorcycle. While approaching the crest of a hill, the operator rapidly accelerated the motorcycle, causing the female passenger to be thrown from the back of the motorcycle. The juvenile operator was not injured in the incident and was able to maintain control of the motorcycle once his passenger had been ejected. The female passenger, who was also a teenager, was transported to Northern Maine Medical Center in Fort Kent and it was anticipated she would later be transported to Eastern Maine Medical Center in Bangor for serious, but non-life threatening injuries. The juvenile operator was charged with Carrying a Motorcycle Passenger on a Learner's Permit and Driving to Endanger. Madawaska Ambulance also responded to the scene and transported the injured teenager to Northern Maine Medical Center. The operator and fortunately, his passenger, had been wearing helmets at the time of the crash.
Cary: Tr. Sylvia responded to a single vehicle crash on US Route 1 in Cary Plantation. Tr. Sylvia's investigation revealed that the operator of the vehicle, Arthur Russell, was traveling north on Route 1 and fell asleep at the wheel. The vehicle went off the roadway to the right and struck a tree. Russell and his passenger, Donald Oliver, had to be extricated from the vehicle by the Houlton Fire Department and were transported to the Houlton Regional Hospital. Russell was treated and released for minor injuries, and Oliver is being treated for serious but non-life threatening injuries. The 2005 GMC pick-up was demolished in the crash.
Thursday, June 8
Presque Isle: Tr. Pescitelli was at the field office in the Presque Isle Courthouse. While there he noticed a male individual whom he recognized from a previous complaint five days prior walking out of the probation office. After talking to Probation Officer Spoto, he learned the individual had not reported the contact. The individual had already gotten in his girlfriend's vehicle and was in the process of leaving the parking lot. Tr. Pescitelli remembered from the previous interaction that the vehicle had license plates on it that were falsely attached. After stopping the vehicle outside of the parking lot the operator was summonsed for false attachment. Officer Spoto informed Tr. Pescitelli that the male individual had bail conditions with search and test at any time. Tr. Pescitelli brought the man back into the courthouse to conduct a urine test. The male then told Tr. Pescitelli that he had a "shy bladder" and wouldn't be able to urinate in front of him. Tr. Pescitelli then offered to search him to let him urinate in a stall, to which the male agreed. During the search a condom filled with urine fell out of his pants and onto the floor. The male then admitted to using methamphetamine two days prior and gave a positive test for such. Tr. Pescitelli then prepared to handcuff the male but he attempted to flee on foot to avoid being arrested. Tr. Pescitelli and Officer Spoto gave chase and the male surrendered himself when he turned around to find Tr. Pescitelli gaining on him after about 100 yards. The male was arrested for violating conditions of release and also charged with escape.
Frenchville: Tr. Curtin arrested a Frenchville man for operating under the influence of drugs later in the afternoon. A concerned citizen reported a man sitting in his truck that appeared to be high. Tr. Curtin located the subject and after he performed poorly on field sobriety test the subject was arrested and transported to Fort Kent Police Department.
Tuesday, June 6
Connor Twp.: Tr. Levesque responded to the Van Buren Rd. in Connor Twp. for a utility truck that had lost control and struck a guardrail. Eric Violette was operating a 2012 Ford utility truck owned by New England Telephone and was traveling south when the truck had a sudden mechanical issue that caused Violette to lose control of the steering. The truck went off the road striking a guardrail. There was substantial damage done to the guard rail. Violette was not injured in the crash.
Monday, June 5
Easton: Sgt. Clark summonsed a 64-year-old male for criminal operating after suspension. Sgt. Clark observed the man using his van to tow another vehicle that did not display a valid registration plate and did not have working lights. During the course of the stop Sgt. Clark discovered the man's privilege to operate a vehicle in Maine is currently suspended; his passenger's license was also suspended. The man was issued a criminal summons and will appear in Presque Isle District Court.
Littleton: Tr. Kilcollins stopped a vehicle for a traffic infraction in Littleton. During the traffic stop Tr. Kilcollins discovered the man was driving with an expired driver's license by 10 months. Tr. Kilcollins issued the man a criminal summons for the violation and had the man find a licensed driver.