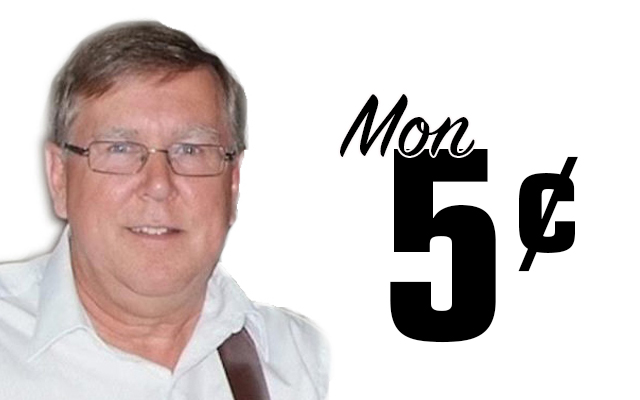 Déja vu
Y mon d'mandé de recommencer a écrire Mon 5¢. So, j'va essayer ça une fois par mois pi ont ouairas comment ça va aller. J'sais pas si ça va être dans la grosse gazette, La P'tite Menteuse, l'FiddleHead Focus, dans les trois, ou rien que su' l'internet. Mais c'est supposé d'être en chèque part. Comme j'ai dit, ont ouairas b'en.

T'est qui toué?
Moué shu Don a Gilbert a Joseph a Louis a Jean-Charles a Jean-Baptiste a Pierre-Joachim a Robert Levesque de Rivière-Ouelle, QC, natif de Hautôt Saint-Sulpice, près de Rouen en France. I was born in Grand Isle, went to high school in Van Buren, college in Fort Kent, I worked in Madawaska, and live in Edmundston. So, I am really a Valley guy pi shu fier de t'ça.
T'est qui toué?
Intro: I worked on local community weekly newspapers for more than 33 years, retiring in 2010. Over the years I've worked as a sales rep, graphic designer, newpaper delivery person, collator, reporter-photographer, editor, managing editor, general manager, and for the last 15 years as publisher and editor of the St. John Valley Times, La P'tite Menteuse, as it is affectionately known locally. Pi j'ai écrit une column a toute les s'maines pour quissement 25 ans. J'ai fait pas mal toute les jobbes qu'y a su' une gazette. J' 'tais un bon bouche trous pour plusieurs années, j'te garantie.
French souls
Obviously, this column will be written mostly in colloquial French, the French we love, the French that is the most precious part of our souls, the French we speak, the French we dream in, the French we weep in, and the French we swear in … des fois un peut trop.
Translation
I don't plan to translate the French in this column because I am too tête de pioche. Reading the French out loud or moving your lips when you read pourais aider a ta brain a trouver que ça sonne okay. Besides, the majority of people in the Valley speak French, so finding someone to translate shouldn't be that hard, really. This column mainly speaks to the Valley but you're welcome to listen in and contribute to the conversation. WARNING: The"translation" button elsewhere on this internet page may not always be helpful with mon français d' la Vallée Saint-Jean.
A la royure
Chequez pour Mon 5¢ le premier mercredi du mois l'mois prochain, si l'bon djieu l'veut, comme disais nos ancêtres.
Don Levesque is a Grand Isle native who worked in community journalism for almost 35 years. He was the Publisher and Editor of the St.. John Valley Times for 15 years prior to retiring in 2010. He wrote a weekly newspaper column, called Mon 5¢, in the Valley Times for more than 20 years. He has been inducted into the Maine Journalism Hall of Fame and the Maine Franco-American Hall of Fame.