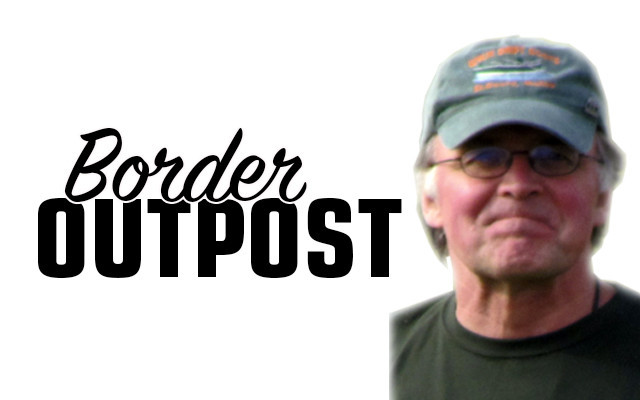 BorderOutpost-Wylie-640×400
Spring in Maine: Late April, 2017
True, it's Spring, and there's two feet of snow in the backyard taking its good old time to melt. I've filled the bird feeder with sunflower seeds and sit down on the porch steps to take in the sun. Within minutes, there's a pod of chickadees darting to and from the feeder and I wonder in my quirky way would angels flutter that way? Their motions have attracted a red squirrel now making a stealthy approach, a foray at the feeder suspended from a long metal post. It hasn't defeated a squirrel's efforts over the winter thus far. The squirrel halts, eyes me curiously, doubtless regarding me as an interloper, and makes twitchy progress toward the post. Red squirrels sometimes make noises like those squeaky chews for dogs as they creep in your general direction. I'm baffled as to the function of this noise, because it's comical to essentially alert your foe to every step they're making toward you. Perhaps that's the purpose.
"Look (squeak). I'm (squeak) gaining on you (squeak)." It's like being stalked by a fuzzy toy.
So I get up from my seat to get a bowlful of sunflower seeds to distract him from the feeder. I sometimes throw a bowlful of seeds on the snow to keep the squirrels away, and possibly lure one to a more drastic fate with the pellet gun. Or at least that was the idea behind it initially. I haven't got the necessary bloodthirstiness to carry out that particular design, having tried it once or twice before, and getting heartily sickened by the result. There are men who lure bears to their doom that way with stale doughnuts for money. It's not my idea of sport. Squirrels may be a nuisance, but only if you're living where squirrels live and I tend to give them some leeway. Like bears, they've been here a lot longer than we have.
So now I'm watching a squirrel graze on sunflower seeds in the back yard, if you can call it grazing. It picks up each seed with its paws and gnaws at it, rolling it around, and making little crackling noises as it eats. Sunflower chaff falls away and it grasps another seed and repeats the performance. The architect who designed red squirrels had a sense of humor.
I think of my late brother and his silly way of calling squirrels 'ROW-dents' in a Peter Lorre imitation, like they were some kind of alien menace. The word covered mice, skunks, woodchucks, and a host of other critters. I miss him a good deal. Days like this, we'd be talking about getting ready for fishing season.
I notice under the trees the juncos casting about for the odd edible in the dry leaf litter from the season before. Juncos are that way, keeping an overstory of boughs above, probably for good reason. A blue jay in the distance is making cries mimicking a hawk, so to the juncos, it could be a hawk. I can tell the difference. Perhaps they can too. It doesn't fool anyone, but that's no reason to let down one's guard.
Juncos are cartoon birds. They're grey and white with little yellow cartoon bills. One sees them starring in "Wallace and Gromit" movies.
It's too bad Donald Trump and Kim Jong-Un couldn't sit down together on an afternoon like this and watch what's going on around them. They probably wouldn't be thinking of destroying each other and the planet thrown in for good measure. Then again, they're both thoroughly despicable human beings and would likely flail at each other; two obese power-mad Sumo wrestlers on a very small stage. The thought makes me smile.
True, it's Spring, and there's two feet of snow in the backyard taking its good old time to melt.
Dave Wylie's life and work experience runs the gamut from newspaper editor to carpenter to grant writer to boat builder with lots of other work wedged in-between. Wylie currently is president of a management company that oversees an elderly housing complex and president of the local historical society. He resides in Madawaska.