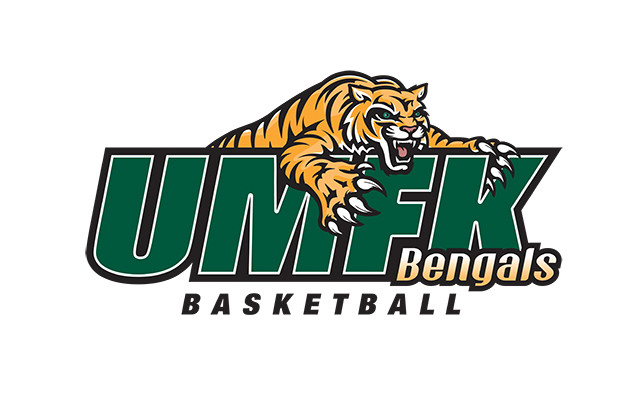 UMFK_Basketball_Logo
Contributed image of the UMFK Bengals basketball logo. Fort Kent, Maine
UMFK track team does well at SUNY
DELHI, New York — The University of Maine at Fort Kent's newly formed track and field teams competed at the USCAA National Championships the weekend of April 29-30 at SUNY Delhi.
The Bengals represented the University and community very well, said UMFK Athletic Director Tom Bird in a press release, for individuals who had only been able to practice five times and only one time outside in the spring conditions.  This year's team was a club sport, just added a few months ago to UMFK athletic, but next year's team will be a full track and field team competing in meets for the entire spring season.
Attached you will find the results on the track and field meet.  
For the women, who came in as the 8th overall team finishers, Sherifa Sumaila finished fourth in prelims and fourth in the finals of the 100M dash. She also finished fourth in the 200M dash. Valentina Green finished 10th in the 800M run.
In the shot put, Ruth-Ann Lorman finished sixth i, while Cameika Davis finished 10th.
The men were the fourth overall team finishers. Mark Parchment won the qualifying and finals of the 100M Dash. Damion Rankine and Miguel Barnaby finished fifth and sixth overall. Parchment also finished fifth in the finals of the 200M dash, while Rankine and Barnaby finished fifth and sixth.
Kalusha Kotes finished seventh in the 400M dash. Abdi Hussein finished ninth in the 1500M run and also sixth in the 5000M run.
UMFK finished first in the 4X100M Relay (Rankine, Barnaby, Parchment, Christopher Tillock) and second in the 4X800M Relay (Rodney Witter, Kotes, Fletcher Brown and Kevaughan Smith).
Parchment and Barnaby finished eighth and ninth in the long jump.
Smith and Ricardo Whitely finished seventh and ninth in the shot put.