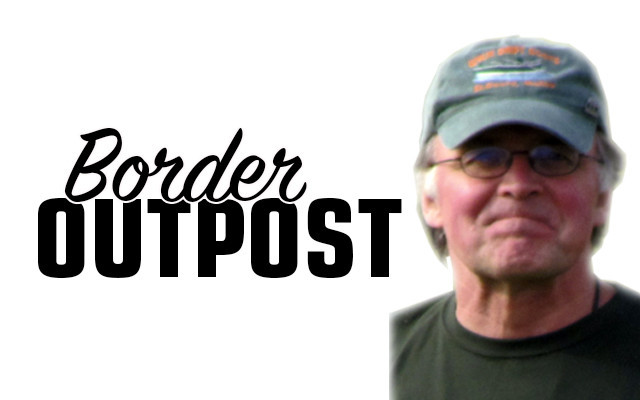 BorderOutpost-Wylie-640×400
Kiwonik
For those of you who might not speak Maliseet, 'kiwonik' means otter. It specifically means the river otter; lontra canadensis for those of you who might speak Latin. I bring up the Maliseet word for this beautiful, fascinating animal, only because I plan to build another river driving batteau this spring and that's what I propose to call it. I settled on the name in Maliseet whose river, the St. John, called the Wolastoq in their language, it will eventually ply once constructed.
I'd be the first to say that I'm a great admirer of the Maliseet, their culture and what little I know of their language. A few years back during the World Acadian Congress, I was among a small party of people who presented the Maliseet band in Edmundston, New Brunswick with a specially made wampum belt to thank them formally for being allowed to live on their land. I gave the wampum speech, an honor some historians I know said hadn't been done since the 1790s.
I'm not disputing anyone's ownership of the land, but logically and even spiritually, we live on Maliseet land. We're "Johnnie come lately" to this place. The Acadians settled here in 1785. The Maliseet have been here for about 12,000 years, give or take. I believe their presence is imbued in the place.
I got to thinking about this sort of thing after watching a short item on the late Bill Reid, a Haida artist, and his creation of 'Lootaas'; the war canoe carved out of a single cedar log in British Columbia. Lootaas is Haida for Wave Eater, the Orca or Killer Whale. Lootaas was taken down the Seine River in Paris some years ago, crewed by Reid and some Haida rowers. Supposedly, Reid looked up as they passed by Notre Dame Cathedral and said to the others in the boat, "Well, I guess we've arrived." It was like the Haida discovering Europe. That still gives me a frisson of delight.
It also comes from feeling close to the land, and that I never really wanted to be anywhere else. Too often we think of the place around us being a resource, that things are somehow put there as economic materials for our benefit or exploitation. There is nothing more laughable to me than to hear someone calling land a 'recreational resource', as if we play on the land and don't live on it.
In that vein, I hear people talking about fresh water as a resource when it is simply life itself. Without it, we die. Everything dies without fresh water. Next to air it is the most important substance in existence. I got the full sense of this when I attended a meeting contra Irving's proposal to mine Bald Mountain and its real potential to pollute the Fish River chain of lakes. This was a few years back. One of the people standing up against the scheme was a Maliseet native from the Tobique Reserve. I sat directly in front of him as he spoke. It was akin to the spirit of Sitting Bull admonishing us that we've had 500 years to do the right thing and haven't done it yet.
As I look out the window while writing this, I see the St. John River. I recall my father saying to me he couldn't imagine not living near water or the sound of water. I know what he meant.
Somehow, some way, I 'll build a batteau this year. If I'm lucky, I'll take it down a section of the St. John River, the Maliseet Wolastoq.
Its name will be Kiwonik, the River Otter.
Dave Wylie's life and work experience runs the gamut from newspaper editor to carpenter to grant writer to boat builder with lots of other work wedged in-between. Wylie currently is president of a management company that oversees an elderly housing complex and president of the local historical society. He resides in Madawaska.