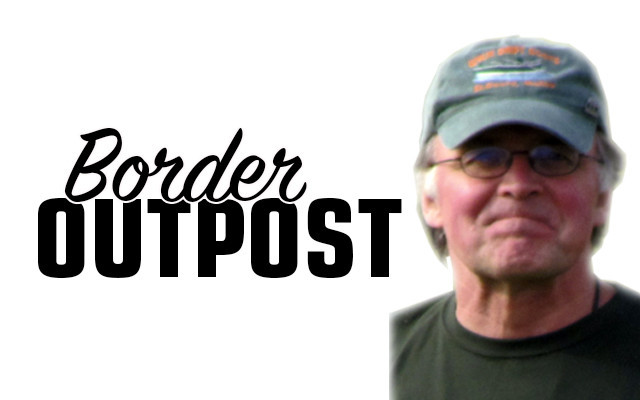 BorderOutpost-Wylie-640×400
An illegal alien?
I never thought of myself as an illegal anything until now.
Like many in the St. John River Valley, I was born in Canada of American parents. Back in the day, some sixty-four years ago, my mother's stay in the Edmundston hospital would have been three days. I would have been brought across the border back into Madawaska with congratulations given to my parents at the border station before summarily being taken home. I use the expression "back in the day" a lot now because back in the day, the United States enjoyed a friendly sort of relationship with Canada. The Border Patrol was nearly non-existent, and the guys at Customs and Immigration were generally concerned with tariffs and taxation and goods coming through that needed to be checked for whatever reason. All were generally friendly.
Still, I came from a proud line of French Canadian settlers on my mother's side who smuggled the occasional barrel of flour or molasses (and more) across the frozen St. John River because back in the day, it was no big deal. It was part of life in The Valley, and you got what you needed to live from either side, either way. Messrs. Webster and Baring aka Lord Ashburton with their treaty placed a none-too-arbitrary line through the middle of the river that divided us from them, family from family, friend from friend, neighbor from neighbor. They effectively split The Valley's cultural and social life in two, back in the day when the river was a highway, not a border.
There were strong motivational factors for ignoring the fact of a border a long time ago, and maybe not so long ago. It was something of an unnecessary complication, an inconvenience of sorts that was often circumvented or merely formally acknowledged and bypassed for the sake of harmonious relations. Canada was our next door neighbor to the north, not an enemy as it sometimes is perceived to be.
The American side of the border was 'hardened' to use a phrase, following September 11, 2011. It became armed and dangerous, and anyone entering (or leaving for that matter) was and is considered suspect. Since the legal/illegal immigration issue played so prominently in the last election, launching our present fearless leader to the gilded throne as ruler of the known universe, some of us have had to rethink our place in the scheme of things border-wise.
I've always been comfortable with the fact that I have two citizenships, or assumed I had two countries to be a citizen in. That particular dangling participle comes into question when it comes to this country, the good ole USA. Was I technically smuggled into the country by my parents, both American citizens by birth and inclination? Doubtless some will say "Of course not." And then add that you would have been naturalized.
I was never "naturalized", as far as I know; whatever that means. A fellow I used to know said he had a magic word that made everything okay and he would shout 'Ishpenanyo!' and things were made better, copacetic, tranquil again. I have a similar version I call the Zulu "Make it All Go Away" dance which I seldom needed to apply.
Some officious uniformed crank at the American border crossing in Fort Kent some 40 years ago said he would deport me back to Canada if I didn't show him my "naturalization" papers next time. I vowed I would never get naturalized because I knew I was an American citizen who happened to be born in Canada. Thousands of us are literally in the same state here in The Valley, so I've kept that vow.
I sent the U.S. Passport people a copy of the paper giving me my name as an Act of the Maine State Legislature in order to get a passport, because I wasn't "naturalized." On that note, my father was the Representative for Madawaska in the early 1950s, and the Speaker of the House, a Mrs. Christie, introduced a congratulatory motion to my parents, naming me after my Uncle John. Call it an early and thus far only foray into Maine politics, but it got me the passport in time to visit Scotland.
In some bizarre way, I think I'm being true to my ancestors. They were Covenanters from Scotland who refused to take a citizenship oath to the Constitution because it permitted slavery to exist in the U.S. way back in the day. They were being true to their beliefs, and so I am to mine.
If some have a problem with that … "Ishpenanyo!"
Dave Wylie's life and work experience runs the gamut from newspaper editor to carpenter to grant writer to boat builder with lots of other work wedged in-between. Born in 1953 in Canada, he admits not having found what he wants to be when he grows up. Wylie currently is president of a management company that oversees an elderly housing complex and president of the local historical society. He resides in Madawaska.