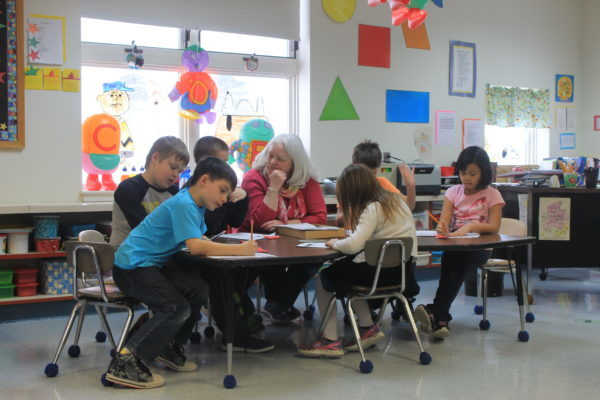 35078321_H19929460-600×400
Washburn Elementary School teacher Kathy Adler leads an activity at the district's after-school program, March 7, 2017. (Anthony Brino | Star-Herald)
Maine has strayed from school funding fairness, and it needs to find its way back
Ensuring all of our children have access to a quality education is essential for Maine's future. Quality education helps ensure the development of a competitive workforce and saves money in the long run. The costs of a lack of education are well documented; with health-related costs alone, a high school dropout incurs about $100,000 more over the course of his or her lifetime than a high school graduate.
Last month, legislators from both parties who sit on the Education and Cultural Affairs Committee committed to living up to a long-standing state law and agreed that the state should cover 55 percent of school costs. This is an important step toward ensuring that all children across our state have access to a high-quality education. If the state actually follows through, it will also mark an important step toward keeping Maine from out of legal cases concerning school funding equity in which so many states have become embroiled over time, including Connecticut, Kansas, Kentucky and Massachusetts.
Less than 10 percent of education funding comes from the federal government, which means that the rest is covered by money raised from state and local taxes. When adjusted for inflation, the amount of school funding covered by the state has declined by $1.1 million over the last decade. In that same time, the amount of education spending covered by municipal property taxes rose by more than $111 million, when adjusted for inflation, to compensate for state funding stagnation.
The Fiddlehead Focus / St. John Valley Times is pleased to feature content from our sister company, Bangor Daily News. To read the rest of "Maine has strayed from school funding fairness, and it needs to find its way back," an article by contributing Bangor Daily News staff writer Flynn Ross, please follow this link to the BDN online.