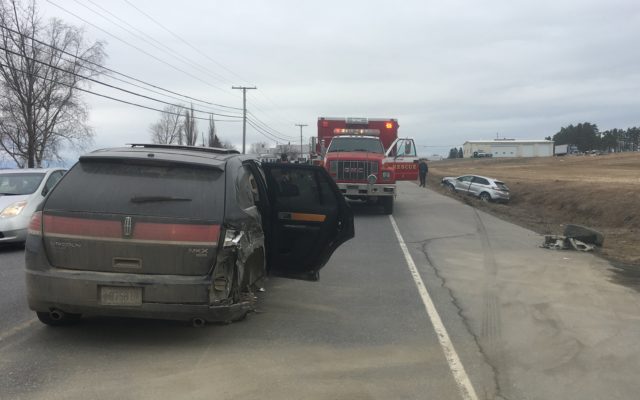 35141821_H20190422
Maine State Police, Aroostook County Sheriff's Office and the Monticello Fire Department responded to a two-car crash on U.S. Route 1 in Monticello Tuesday morning. Jessica Shaw, 29, was driving north in a 2008 Lincoln SUV at 8:40 a.m. when she slowed to make a turn into a driveway when she was struck from behind by a 2017 Ford SUV operated by Daniel Falkenberg, 36, of Portland, according to Trooper Nick Casavant of the Maine State Police. (Courtesy of the Maine State Police)
Hodgdon woman injured in Tuesday morning crash
MONTICELLO, Maine — A Hodgdon woman suffered minor injuries Tuesday morning, April 11 when her vehicle was slammed into by another motorist while traveling north on U.S. Route 1 near the Blue Moose Restaurant.
Jessica Shaw, 29, was driving north in a 2008 Lincoln SUV at 8:40 a.m. when she slowed to make a turn into a driveway when she was struck from behind by a 2017 Ford SUV operated by Daniel Falkenberg, 36, of Portland, according to Trooper Nick Casavant of the Maine State Police.
Falkenberg reportedly did not see that Shaw had slowed her vehicle and was preparing to turn. He attempted to avoid Shaw by swerving to the right, breakdown lane portion of the road, but struck the back of her vehicle. He then travelled off the road into a ditch.
Shaw was taken to Houlton Regional Hospital by ambulance, where she was treated and released. Her 2-year-old child was also in the vehicle at the time of the crash, but was not injured. Falkenberg also was uninjured.
Both vehicles had considerable damage in the crash and had to be towed from the scene by Westerdahl's Service.
Assisting Trooper Casavant were members Chief Deputy Shawn Gillen of the Aroostook County Sheriff's Office and members of the Monticello Fire Department. U.S. Route 1 was reduced to one lane of travel for about one hour while the accident scene was investigated, police said.