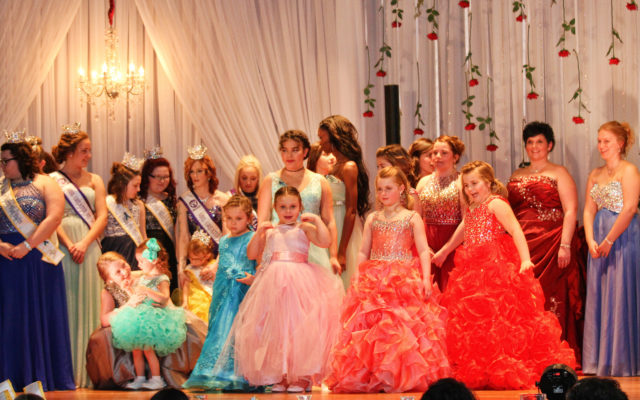 35052021_H20184142
Contestants at the 2017 Miss Van Buren pageant gather on stage, Saturday, April 8, and the Van Buren Secondary School auditorium. (Don Eno | SJVT/FhF)
Bassett and Headly crowned at this year's Miss Van Buren Pageant
VAN BUREN, Maine — The Van Buren Secondary School auditorium was filled Saturday night, April 8, with family and friends for the 2017 Miss Van Buren Pageant. The 15 competitors, from the Mini Miss to the Ms. Elite Beauty categories, took part in modeling, talent and evening gown competitions.
Brianna Bassett was crowned this year's Miss Van Buren. Basset, and runner-up Lindsey Gendreau sang songs for their talent portion. The newly crowned Miss Teen Van Buren, Lauren Headly, performed a contemporary dance routine for her talent.
"I was really nervous, but excited," Headly said following the competition. "I didn't think I could do this." Headly, however, showed poise and confidence throughout this, her first pageant competition.
"It was phenomenal! The contestants were all very positive, and excited and just wanted to shine," said Andrea Perreault, the pageant director. "The contestants worked hard and they all had so much fun."
Perreault, who has been directing the pageant for 10 years, said the event organizers donated $2,000 to the Austin James West Memorial Scholarship  Fund from the monies raised by the pageant. West was a Van Buren teen who passed away in 2016 and the scholarship is intended for students interested in the areas of mental health, automotive or athletics.
Also, $1,500 was donated to Bassett and Gendreau to help with their college expenses this fall.
This year's Little Miss Van Buren, Addison Lajoie, also enjoyed herself at this year's pageant. "It was good. It was a lot of fun," she said.
"I am super excited to reign," said newly crowned Junior Miss Van Buren, Olivia Lajoie. "I'm very proud of myself." Lajoie modeled in her soccer uniform and performed a hip-hop dance routine for the talent portion.
Competing in the Ms. Elite Beauty category, Jaci Lapointe performed a song in American sign language at the pageant. Lapointe was also recognized as this year's Spirit Queen and was presented the Community Service award for her more than 200 hours of volunteering her time.
The show included entrainment interludes by past contestants, including Renee Lapointe, Lille Michaud and Megan Cormier. The pageant was judged by a panel of several past contestants and community members, and the results were evaluated by two independent auditors.
Other winners at this year's Van Buren pageant were Aubree Ouellette, Baby Miss;
Emma Dolan, Mini Miss; Ava Perkins, Petite Miss; Mya Perkins, Petite Princess; Mackinzzy Belanger, Pre-Teen; and Alexis Ouellette, Ms. Elite Beauty. Jayde Violette and Erica Ouellette were named Ambassador Queens.
This year the pageant raised the most money in its history, and Jayde Violette and Erica Ouellette raised $4,000 just by themselves.
Tina Boucher of Interior Accents in Madawaska decorated the auditorium for the pageant and the evening's DJ was Adam Ouellette of Madawaska. Kim Parent and Kallee Parent were the emcees for this year's event.
Contestants and past queens presented Perreault with a gift prior to the start of the pageant, in appreciation of her 10 years of organizing the event.
"My Co-Director Lisa Caron has been standing by my side for 10 years and hasn't missed a beat. Even when she moved to Moncton," said Perreault.
"The anticipation and preparation was very exciting. I knew this year's pageant was going to be the best," Perreault said. "It's been a great ride and I cannot wait to see what else the future holds for the Miss Van Buren Pageant!"