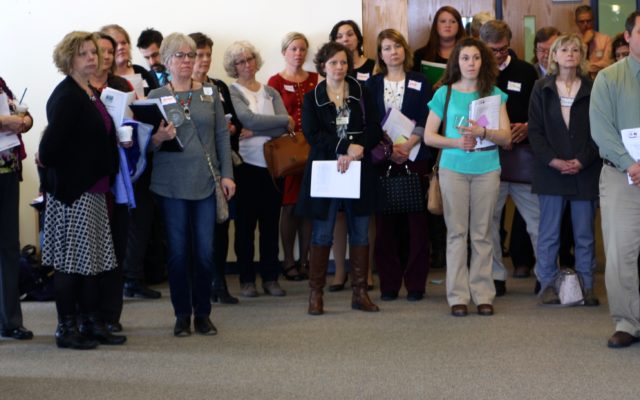 34590902_H20139782
Over 60 community leaders from around Aroostook County and the state met last Wednesday, March 29 at Northern Maine Community College to discuss the region's economic future and ways to solve childhood poverty. (Joshua Archer)
Economic avengers
There are startling statistics about Aroostook County that would scare most folks. The region's present state is a rising line on a chart detailing the effects of Maine's increased outmigration, aging workforce, skills gap and desperate need for educational opportunity and job training. But have no fear, there are folks hard at work saving The County's economic future and they're focused on what they believe is the root of Aroostook's economic problem: childhood poverty.
"The dramatic rise in child poverty in Aroostook County over the last five years, especially where families with young children under the age of 5 are concerned, there's been a 12 percent increase in that period of time," Jason Parent, executive director and CEO of ACAP, said.
Maine Equal Justice Partners together with the Maine Community Foundation, regional and state chambers, Maine's Workforce Investment Board, United Way, Maine Children's Alliance, ACAP as well as other community leaders came together last Wednesday, March 29 at Northern Maine Community College to discuss solutions to childhood poverty.
"You have a lot of different groups from different perspectives coming together saying 'yes we share this goal and together we'd like to do something about it,'" Robyn Merrill, executive director of Maine Equal Justice Partners, said.
What northern Maine families below the poverty line need is sustained employment, reliable transportation, affordable childcare and education and training to gain a job that will pay enough so they may provide for their families, according to Merrill.
"We really want to hear from folks in the community, folks in Aroostook County, folks in Presque Isle to share with us their thinking in terms of the solutions, what is it really going to take to reduce child poverty and to start moving the needle in the right direction," she said.
First there must be policy changes to aid ways to stabilize Maine families by increasing household income, Parent said.
"Part of a sustained effort that already has begun, our work here, and when we're going to start to see us be able to move the needle, is we're working very closely with private foundations right now and other sources and U.S. Senator Susan Collins," Parent said.
The group of 65 community leaders who showed up to further the conversation on how to save Aroostook County last week are like a heart monitor attached to the area's ailing economy. If the conversation remains steady, then the pulse may pick up.
"We all have a stake in child poverty," Merrill said. "And it's not just about kids, but also our communities and our economy overall and that we can't afford to lose one child as a state. We really need to be investing in all kids."