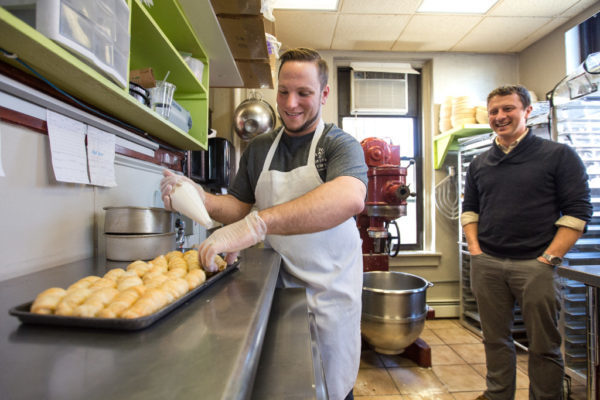 grain-5-600×400
Tristan Noyes (right), executive director of Maine Grains Alliance, hangs out in the back of the Bankery with owner Matt DuBois, a grain alliance member, on Monday in downtown Skowhegan. (Micky Bedell | BDN)
Maine farmer aims to spark grain renaissance
SKOWHEGAN, Maine — Tristan Noyes grew up in the small town of Woodland, just outside Caribou. With Aroostook County roots, he recalls having the three-week break from school for the potato harvest and how free-flowing knowledge was about growing potatoes.
"If you ask almost anyone, it doesn't matter if you grew up on a farm or not or if your parents were farmers, but if you're from Aroostook County, that person can tell you 12 varieties of potatoes, how they are grown, when potatoes are in blossom and how to harvest them," Noyes said.
In his new role serving as the executive director for the Maine Grain Alliance, Noyes said he wants to work toward making this type of widespread knowledge be the case for growing grains in the state.
"We don't have that same kind of culture and knowledge basis for folks [growing grain]," he said. "If I am a potato grower and I go down the road to my elder potato grower who's been doing it for 70 years and ask a question, he's going to know everything. If I'm growing grain there is not the same person down the road as there once was, so that's what we're trying to build back."
The Fiddlehead Focus / St. John Valley Times staff are pleased to feature content from our sister company, Bangor Daily News. To read the rest of "Maine farmer aims to spark grain renaissance," an article by contributing Bangor Daily News contributing writer Lauren Abbate, please follow this link to the BDN online.