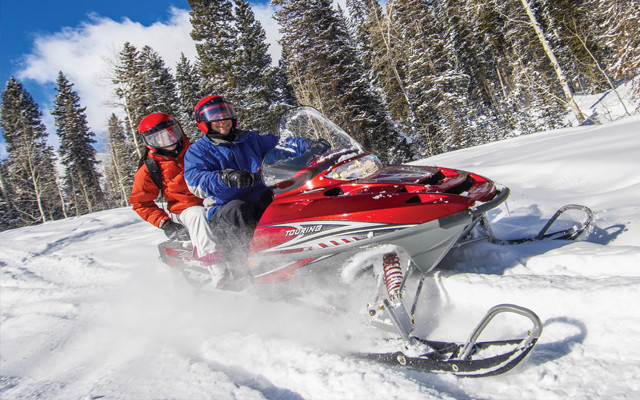 Snowmobile
(Courtesy of Metro Creative)
Snowmobile Trail Report – March 24, 2017
The big questions everyone is asking are: Are we still grooming and what are all the clubs doing? Will they be out for the weekend? And is it worth coming up to The County? The resulting answer is yes.
Most clubs are going to be out again after this latest snow and wind event that we are getting on Wednesday. There are a few clubs that will finish up with what they have in the fuel tanks and will be calling it a season.
Don't despair — The County is big and you will find good to excellent conditions for the upcoming weekend. Fields are still covered with plenty of snow and, of course, the woods and railbed trails have great cover so the riding will be very good.
With the cooler temps trails are holding up very well and it should be a great weekend of riding. There are some clubs that will be starting to slow down a bit, but this does not mean that trails will not be in very good shape. This winter has been a very challenging and busy winter and also an extremely long one at that. My one comment that I would like to make is that if you do come across a rough section of trail, please remember that all projects have been going for about 15 weeks and that 95 percent of the clubs are all volunteer, so please remember this before complaining.
The moose and deer are now out more than they have been all winter, so please keep an eye out there.
On the trails
Trail 71A: Only open the first 6 miles to Garfield.
ITS 83: In great shape from one end of The County to the other. There is a logging operation 4 miles south of Linneus; please watch for signs. There is a small logging operation near the Thibodeau road in Woodland; watch for signs. Madawaska is reporting very good conditions.
ITS 90: Caribou is reporting that they have a few issues with their section of 90W. Also, the upper section from trail 88 to 105 is closed for the remainder of the season. The best way to get to Portage is through Washburn on 105.
ITS 85: Connected all the way through to the crown. There is a section of road that is plowed at the Red River Bridge where Eagle Lake and Portage meet; this will be plowed for the rest of the season, so please use caution. There is a logging operation south of Violette Settlement; please use caution and watch for signs. The Oxbow-Masardis Snowmobile Club has announced that Wednesday night will be their last time out.
120: This trail still has plowed logging in sections. Where there is no logging the trail is still in good shape.
ITS 92: From Fort Kent up through to Allagash is reported to be in good shape.
ITS 86: Groomed all the way from the border in Houlton. Oxbow is reporting that they have a mile of section that is plowed.
ITS 81: Watch for a logging operation down off the Ashland road, and also on the Ralph Craig Memorial Trail.
105: This trail is still in good shape with a few rollers until Blackstone Siding.
ITS 88: From Fort Fairfield is reported open all the way to Ashland. Watch out for speed bumps in the Parkhurst Siding area of the railbed.
73B: Open and signed. There is a logging operation in the Little Black Lake area. Please use caution. This section of trail is being reported as in great shape.
Trail 81: (Swede's Trail) is in great shape. Please use caution when going behind the Heritage View apartments, as there are a few water holes starting to open up.
Trail 81: The trail in Houlton has a logging operation and will be shortened, only only going to Oakfield.
Trail 100 in the Caswell and Cyr Plantation area offers some beautiful views of the St. John Valley.
Trail 61: Open off of downtown Washburn. Going towards 90 there are plowed sections, so please use caution.
On the social side
The Washburn Trailrunners' clubhouse will be open Saturday from 7 a.m. to 2 p.m., and Sunday from 7 a.m. to 12 noon.  
The Presque Isle Snowmobile Club serves chicken stew on Friday nights from 5 to 7 p.m.
The Meduxnekeag Ramblers host breakfast every Saturday morning from 6-9 a.m. at the clubhouse in Littleton.