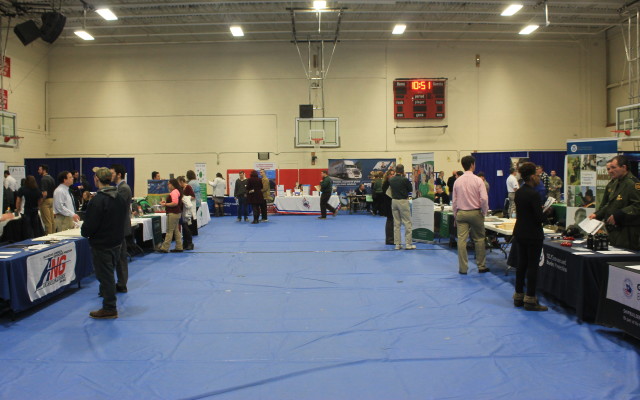 32825561_H19937516
More than 50 businesses and organizations participated in Northern Maine Community College's annual job fair. (Anthony Brino | BDN)
NMCC job fair draws employers, soon-to-be grads
PRESQUE ISLE, Maine — More than 50 businesses and organizations came to meet potential employees at Northern Maine Community College's annual job fair, the largest in Aroostook County.
The popular job fair held Thursday, March 9 brought out a range of industries in the region and many prospective workers from campus and beyond. The large presence of employers should "challenge the perception that there are few opportunities for job-seekers in the region," said Ruth White, regional director of Early College for ME program.
Among the entities recruiting at the event were area medical centers, government agencies, forest product companies like Maibec, construction firms like Soderberg, and nonprofits like the Central Aroostook Association.
"Coming here is a big thing for us," said Jamie Corrigan, a human resources coordinator with Cary Medical Center in Caribou. "We speak with a lot of nursing students."
Corrigan said the 65-bed hospital is "looking for mostly nurses right now," as well as certified nursing assistants. Amid a national nursing shortage, Cary and other hospitals are always recruiting nurses, Corrigan said.
Cary has long hired recent NMCC nursing graduates and partnered with Aroostook's community college to host nursing students on clinical rotations.
Cary also has a financial education loan program that will pay off student loans for recent nurse graduates accepting a job with the hospital, Corrigan said.
Beyond nurses, she said, "We urge people to apply even if a job is not open. We keep applications on file for six months."
Corrigan, originally from Caribou, started working at Cary part-time while studying criminal justice at the University of Maine Presque Isle. "I wanted to gain some experience in the health care field because I really wasn't sure what I wanted to do. I ended up starting in HR part-time and when I graduated in May took a full-time position."
Among the students at the job fair were Dylan Fox and Chandler Dobson, both seniors in electrical construction.
Fox, originally from Fort Fairfield, said he wants to work in commercial construction after graduation and is open to relocating or staying in the region. "It depends on where the money is," he said.
Fox has not made any applications with companies, but was spending part of the job fair talking with representatives from some of the major construction firms. Cianbro, the state's largest contractor, was the first booth he stopped at.  
Dobson, originally from Washburn, said he's aiming to land a job working on industrial computerized equipment and heavy machine maintenance.
"I'm looking to stay local," he said.