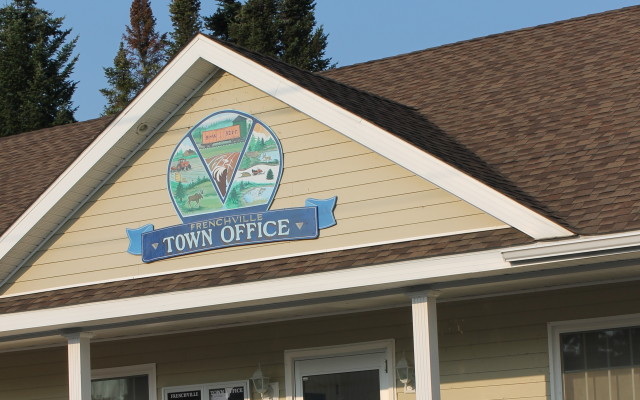 32805321_H18029813
Frenchville Town Office
Town office presents 'flat' budget to Frenchville voters
FRENCHVILLE, Maine — Residents will have an opportunity, Tuesday, March 21, to voice their opinions and vote on the town's 2017-18 spending package. Town Manager Ryan E. Pelletier said the budget will be "flat" and the community's mill rate will remain at 25.25, which would include the town's contribution to Maine School Administrative District 33 expenses.
"Our total budget for the town and the school will around $1.5 million," said Pelletier.
The manager noted that this year's municipal budget includes approximately $80,000 in additional expenses. However, his office has been able to compensate for that by seeking past due revenue sources, such as property liens and delinquent taxes.
The town manager said he would be working with department heads and selectmen on addressing expenditures for next year's budget, since most of those overdue revenues have now been captured and would not be available to offset future tax hikes.
"Our administration is doing the best it can to keep the town operating efficiently and in conformity at this point, without raising taxes," said Pelletier.
The additional expenses this year include required upgrades at the Frenchville Community Center, in order to bring it into compliance with mandated fire safety codes. Repairs are also needed at the town's fire house and public works offices.
Also, increased insurance premiums and new emergency medical services costs, contributed to the $80,000 increase, Pelletier said.
Pelletier noted that the town's insurance coverage will pay all of the replacement cost for the Public Works shed that collapsed last month, and that it will not increase the taxes for the residents.
"Another item that affected our budget bottom line is the Homestead Exemption program," Pelletier said. "It is now at $20,000 per residence," up from $15,000 last year, Pelletier noted. While the program is a benefit to many homeowners, the change takes an additional $65,000 out of Frenchville's tax base this year, according to Pelletier.
In the proposed town budget, "Town Office Operations" is down from $189,471 last year to $182,044 this year. The disposal fee Frenchville pays to Valley Recycling has increased by $3,500 compared to last year's budget.
The total Public Works portion of the proposed budget, $308,430, is down from last year's $319,725. The Recreation Department's portion is proposed to be increased from $9,626 to $11,326.
Also on this year's warrant is an article asking residents if they wish to approve expending $4,000 to install a lighted crosswalk on U.S. Route 1 in front of the St. Joseph Memory Care Center. The total cost of the project is estimated to be $8,000, with the facility owners having pledged to fund half of the project.
Selectmen are also seeking voter approval to purchase a new dump/plow truck for the Public Works Department. Specifically, one question on the warrant asks voters if they wish to allow the town to enter a loan or lease agreement, not to exceed $175,000, for the truck.
The truck to be replaced is 17 years old and now incurs approximately $10,000 in repairs each year. "I don't feel we should be wasting another $10,000 of taxpayers' money on repairs when we can invest in a new unit that would be under warranty for seven years," Pelletier said.
Voters in Frenchville will also have an opportunity at the annual town meeting to vote on whether or not to prohibit recreational marijuana sales and prevent recreational marijuana clubs from being established within town limits.
"Our 2016 audit was completed and we are glad to say that we are good shape," the town manager said.
"When I came to office in 2015, we had approximately $650,000 in total cash on hand, and now we are closing the year with $988,000," said Pelletier. The town's Unassigned General Fund Account is also up from $370,000 last year to $670,000 this year, according to Pelletier.
"These numbers prove that this administration is dedicated to being efficient and keeping all revenues and expenses our priority with providing the best services we can to the community."
Frenchville's annual town meeting is scheduled to start at 7 p.m., Tuesday, March 21, at the community center on U.S. Route 1.