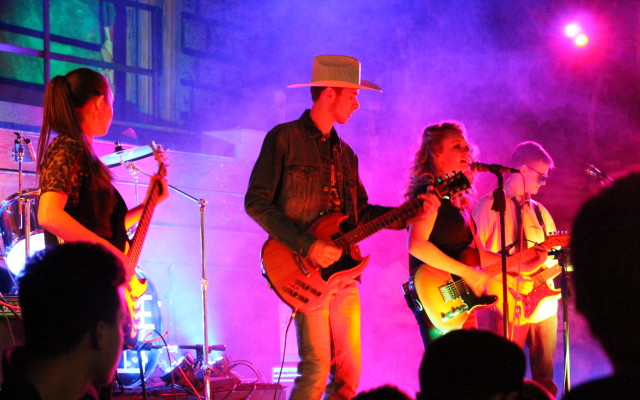 31419761_H19778268
The Junior class band took first place at Fort Kent Community High School's Battle of the Bands competition, Thursday, Feb. 16. From left are Olivia Eno, Brody Albert, Emily Marin and Jonny Blanchette. Max Ouellette is on drums. (Don Eno | SJVT/FhF)
Fort Kent juniors come out on top in Battle of Bands
FORT KENT, Maine — Community High School's junior class finally broke through Thursday night, Feb. 16, taking first place in the annual Battle of the Bands competition, which is part of the school's Winter Carnival festivities.
Runners-up last year to the senior class, the Class of 2018 group was joined this year by Brody Albert on a second guitar. Playing nearly a full set of rock music, Albert, and bandmates Johnny Blanchette on lead guitar, Olivia Eno on bass guitar, Emily Marin on lead vocals and Max Ouellette on drums, impressed not only a cheering audience but the three-judge panel as well.
Each year the four grade cohorts assemble to create murals, compete in various indoor and outdoor games and play in the band competition. Winter Carnival serves to provide students with a much-needed break in studies during the long winter, and is an opportunity to foster school spirit.

The juniors not only one won the Battle of the Bands Thursday, however. By Friday afternoon the Class of 2018 had wrestled the overall Winter Carnival title away from the seniors, a feat rarely accomplished in the past nearly 20 years of the carnival.
The freshmen group shared some of that special spirit Thursday night when the band not only played multiple songs for the audience, but their classmate Desirae Hafford took part in both the guitar and drum solo competitions.
That willingness to put themselves out on the line, coupled with talent, including lead vocals by Cady Hebert, earned the ninth-grade class second place in the band competition.
Despite Nate Michaud's impressive chops on the electric guitar, the seniors only captured third place Thursday night. The outgoing Class of 2017 did, however, work the crowd into a frenzy. The sophomore band finished in fourth place, but seemed to have solid enough musical talent to be back stronger next year.
All the musicians were well received by fellow students and the many parents, family members and friends who filled the bleachers at the gymnasium. Each class also displayed a large mural Wednesday night, depicting a "Music through the Decades" theme.
Class rivals aside, the annual high school Battle of the Bands is always a favorite among these students and parents, providing a local rock concert for all.