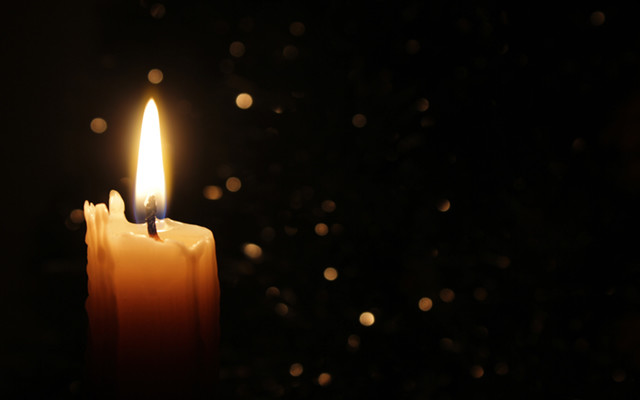 Candle-Memorial
(Courtesy Getty Images)
Frank R. Daigle (1929—2016)
SHERWOOD FOREST, Mass. — Frank R. Daigle, of Sherwood Forest in Becket, Mass., died at his home on Sunday, December 4, 2016 at the age of 87.  He was born in Daigle, Maine, on January 27, 1929 the son of Wilfred and Laura (Michaud) Daigle.
In the early 1950's, Frank left Daigle to find employment at Chandler Evans, Inc. in West Hartford, Conn., and retired from that company after 40 years, in 1993.
Frank enjoyed going to meet with the "seniors" in Becket for lunch and Bingo. He and his wife Claire would also take bus tours across the country with their friends. Frank and Claire (Weinz) were married for 60 years before she died in February 2014.
He was a lifetime member of the Masons Lodge in Plainville, Connecticut.
Frank will be remembered for his sense of humor. Many friends and family have wooden bird houses, walking sticks, signs, doll cradles, rocking horses made by his busy hands.
He is survived by two brothers; Joseph Ellis Daigle and his wife, Barbara of Schenectady, NY; Raymond Daigle and his wife, Lena of Suffield, Conn.; three sisters; Phyllis Taberner and husband, Ernest (died December 13, 2016) of Duxbury, Mass.; Mae Burns of Bristol, Conn., and Cora Maxim and husband, Ronald of Ocala, FL; a sister-in-law Marie Daigle wife of deceased brother Lincoln; sister-in-law Jeanine Daigle wife of deceased brother Louis; and brother-in-law Barry Weinz.
Frank also leaves many nieces and nephews who loved him dearly.
Funeral service was held at the Federated Church of Becket on December 10, 2016, with Rev. Kevin Smail, Pastor, officiating.
Donations may be made in Frank's memory to Becket Federated Church, 3381 Main Street, Becket, MA, 01223.