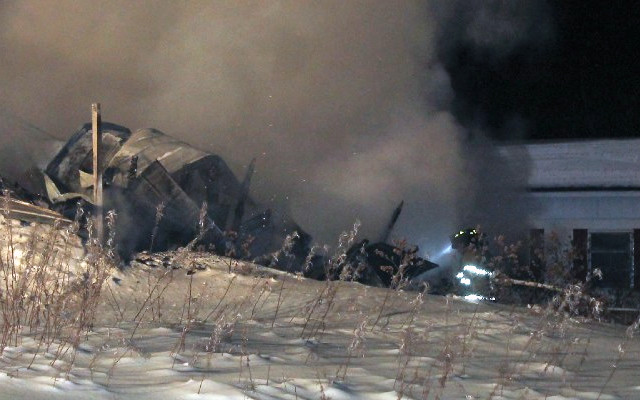 Barn Fire
Firefighters battle a fire at a metal barn on Blaine School Road in Fort Kent on Sunday night, Jan. 1, 2017. (Jessica Potila | SJVT / FhF)
Livestock perish in New Year's Day fire
FORT KENT, Maine — Two dozen pigs, including approximately 10 newborn piglets, perished when a metal barn on Blaine School Road burned to the ground New Year's Day, according to Fort Kent Fire Department Chief Ed Endee.
A person driving by witnessed the burning building and reported the fire shortly before 10:30 p.m. Sunday night, January 1, 2017. Twenty volunteer firefighters with the FKFD responded to the scene with three engines, the tower ladder, and the heavy rescue truck.
"We operated two hose lines to extinguish the fire, but the building had already been pretty much consumed," Chief Endee said Monday.
"Nobody saw this thing burning. By the time we got there (the barn) had already collapsed from the fire," he said. "There was nothing we could save. It was already done."
Chief Endee said the barn, located at 20 Blaine School Road, was on farm property owned by Carrol Theriault. The fire did not damage a trailer located about 30 feet away from the metal barn. Chief Endee said he believed the trailer possibly housed chickens.
The firefighters were able to contain the barn fire and left the scene after a little more than an hour. Chief Endee returned to the scene Monday morning to investigate the cause of the fire, which he classified as "undetermined."
"It looks like because of the complete destruction of the place that we're not gonna be able to pinpoint the cause," he said, noting that the fire was not suspicious.
Chief Endee said the building was insured, but it was unclear whether the owner would be reimbursed for costs related to the loss of livestock, as the insurance agency was closed on Monday.
The Fort Kent Police Department assisted with traffic direction and Ambulance Services Inc. stood by at the scene.
The Frenchville Fire Department covered the Fort Kent fire station while firefighters battled the barn blaze.