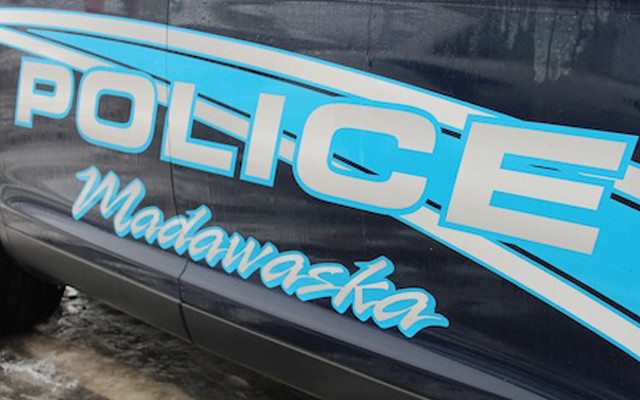 MPD cruiser
Madawaska Police Department cruiser - File photo - (Don Eno | SJVT / FhF)
Madawaska police charge man with terrorizing, assault, resisting arrest
MADAWASKA, Maine — Madawaska police charged Adam M. Bouchard, 21, formerly of Fort Kent, Wednesday morning, Sept. 28, with multiple charges related to a domestic disturbance incident that happened Saturday, Sept. 24.
Bouchard turned himself in without incident at the Madawaska police station shortly before lunch Wednesday, according to Madawaska Police Chief Carroll Theriault.
Bouchard was transported to the Northern Maine Medical Center to receive "mental health services" on Sept. 24, according to Theriault. Bouchard had later contacted the police that day to see if charges would be forthcoming.
Chief Theriault said Officer Ryan Albert was dispatched on Saturday to a residence where Bouchard was living. Bouchard approached Albert repeatedly, hands in his pockets, and refused to heed Albert's commands, all according to the chief.
When Bouchard quickly removed an object from his pocket, Albert made the decision not to fire his weapon. Instead, he used a Taser device to subdue Bouchard.
Theriault described this as an apparent "suicide by cop" situation and praised Albert for his actions. "I've been in those situations many times over my career," Theriault said Wednesday. "Thank God (Albert) was able to see there was no weapon."
Police charged Bouchard with domestic violence / criminal threatening, assault, refusing to submit to arrest and terrorizing, all Class D offenses. They also charged him with discharging a firearm near a residence, which is a Class E offense.
Bouchard was in the custody of the Madawaska police Wednesday, attempting to secure $1,000 bail. Theriault said it was unlikely Bouchard would be able to make bail. In that case, he would be transported to the Caribou Police Department's holding facility until transportation to the Aroostook County Jail could be arranged.
Bouchard has had previous run-ins with local law enforcement. In Oct. 2014, Fort Kent police charged him with criminal threatening following a similar situation in which he threatened a police officer with what appeared to have been a firearm. The next month, police arrested Bouchard again in Fort Kent for violating bail conditions when they discovered he was in possession of alcohol and drug paraphernalia.
In 2013, Bouchard was one of two people police charged with aggravated criminal mischief in a BB gun shooting spree through Fort Kent.