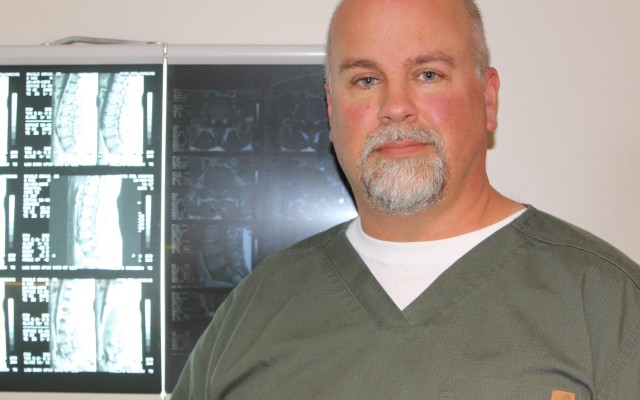 Craig Daigle.JPG
Dr. Craig Daigle of Presque Isle. Photo by Joshua Archer.
County Faces: Dr. Craig Daigle
AROOSTOOK COUNTY — Coasting down a snow covered hill, a young Craig Daigle aimed his sled toward a jump that would send him soaring through the air and change his life forever. As his sled left earth and took flight, it was then that he realized he had made a mistake. The jump proved too high for 6-year-old Daigle. He came crashing back down to the ground, landing flat on his spine. He laid there on the snow while his back spasmed.
Daigle's mother rushed past the hospital and drove him straight to the chiropractor in their hometown of Fort Kent. The typical parent might have b-lined it to the ER, but he said his mom was a "non-traditionalist."
Like magic, the chiropractor stopped the spasms using only his hands, and Daigle left the clinic with no shots, no surgery and most of all, no pain.
Some of his doctor's electrical charge must have transferred to Daigle, because he walked away a changed boy. That spark led him to become Dr. Daigle — Presque Isle's friendly neighborhood chiropractor.
After his accident, he "always thought that chiropractors were the real doctors," he said. When he finished high school, he left Fort Kent and went to Palmer College in Iowa, the nation's leading school in chiropractic care.
He then spent some time in Cincinnati developing his craft.
"It was good experience … busy … hectic, but not where I saw myself," he said.
Like most folks who venture away, the draw of The County pulled Daigle back in.
He took a risk and opened up shop in Presque Isle in the late 1990s.
Business "exploded" after six months and soon he became familiar with 15-hour days trying "to help as many people as I possibly can," he said.
Using the power of palpation, his hands give him the ability to sense or feel changes in tissue and in turn he's able to get patients back to work and back to playing sports in a short amount of time.
"It's a good and useful tool to increase and provide quality of life and avoid unnecessary medicines and procedures," he said
Your hands are everything when you're a chiropractor. Healing using just your hands is the purest form of medicine. It allows him to develop a more personal relationship with his patients. Those relationships are paramount, he said.
One person out of pain equals one less prescription, and that's a big deal to Daigle. "The number-one reason, it limits the amount of narcotics," he said. Less narcotics, less chances they'll fall into the wrong hands.
To keep his fingers nimble, he plays guitar with his two sons. And when they're not playing the blues they're out enjoying Aroostook County's fresh air riding their dirt bikes.
Every time Daigle uses his hands you can hear Heart's "Magic Man" playing in the distance. For over 20 years he's changed minds with his complementary medicine. And whether he's healing someone, playing guitar or revving up his bike, his hands are nothing short of magical.