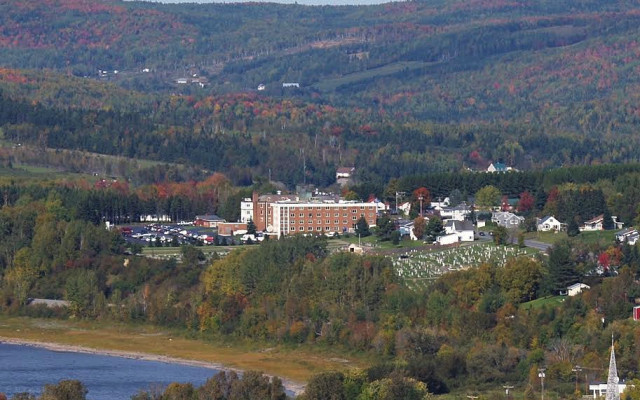 SJ-NMMCgreat-30-16.jpg
Northern Maine Medical Center is nestled among trees with the St. John River nearby in this aerial view of Fort Kent. (Contributed photo)
NMMC earns national 'Great Community Hospital' ranking
FORT KENT, Maine — Peter J. Sirois, chief executive officer at Northern Maine Medical Center (NMMC), has announced that Becker's Hospital Review has named NMMC a "Great Community Hospital" in its 2016 edition of 100 Great Community Hospitals in America. Only one other hospital in the state of Maine, Mid Coast Hospital in Brunswick, made the list with NMMC.
Sirois said, "Like many hospitals across the state and around the country, we are focused on increasing the quality of healthcare that we provide, reducing the cost of healthcare and proactively improving the overall health of the people we serve." He also said that this honor and others NMMC has received this year are a direct result of the dedication and commitment from the entire NMMC healthcare team.
According to a recent press release, the Becker's editorial team selected hospitals for inclusion based on rankings and awards from such organizations as iVantage Health Analytics, Truven Health Analytics, Healthgrades, CareChex, the American Nurses Credentialing Center and the Leapfrog Group.
Becker's Hospital Review features business and legal news and analysis relating to hospitals and health systems.
In 2016, iVantage, a data management group, named NMMC as a Top 100 Rural and Community Hospital, and Healthgrades, an online resource for information about physicians and hospitals, gave NMMC a Patient Safety Excellence Award.