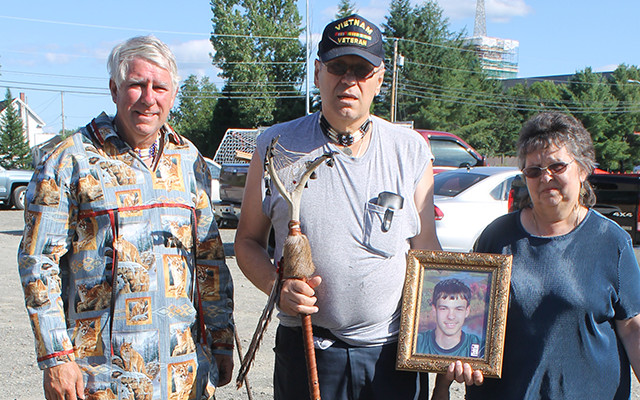 IMG_7749.JPG
Jesse Bouchard, who died in a car accident in 2015, had been fire keeper for the Wesget Sipu's sacred fire during the group's annual pow wow in Fort Kent. This year, Bouchard's grandparents, Roger (center) and Shirley Bouchard, received ashes from the sacred fire Sunday, July 24, 2016. With them is Tony Gagnon, one of this year's fire keepers. (SJVT / FhF - Don Eno)
Sacred fire burns in memory of lost member
FORT KENT, Maine — Tribal members, family and friends gathered Saturday and Sunday, July 23 and 24, at Fort Kent's Riverside park for the annual Wesget Sipu Pow Wow. One man, unable to return to this year's celebration, was remembered during the pow wow's sacred fire burning.
"Jesse was the fire keeper last year. He loved doing it," said his grandfather Roger Bouchard. For two years, Jesse had been one of the fire keepers at the pow wow, staying up late into the night.
A car accident took Jesse Bouchard's life in August of 2015.
The sacred fire burns throughout the pow wow, and fire keepers must make sure it neither goes out nor diminishes.
"When Jesse died last year, we made a sacred fire and kept it burning for six days," said John Pelletier, one of the pow wow organizers.
According to the group, the sacred fire holds the good wishes and prayers of those attending the celebration. Ashes from this year's pow wow will be used to start next year's, in keeping with tradition.
Bouchard's grandparents received a bag of ashes from the sacred fire Sunday. "There are a lot prayers for Jesse in these ashes," Roger Bouchard said.
He said he plans to keep some of the ashes with his grandson's items at home, and some of the ashes will be used to start next year's sacred fire at the Wesget Sipu Pow Wow.
Along with the sacred fire, the weekend celebration allows people a glimpse at traditional and contemporary Native American and indigenous peoples' traditional music and dance. Participants attending this year's pow wow in Fort Kent traveled from Quebec, Montana, and other parts of New England.
Rose Sirois, whose grandfather grew up in Frenchville, lives in South Portland. She said she was finally able to make the trip to the Wesget Sipu summer celebration in Fort Kent. "It's my first time, and it's wonderful," she shared.
Although it was her first visit to the Fort Kent-based pow wow, Sirois said she has seen many friends at similar events she attends in other parts of New England.
Kendall Parker is one of those friends.
A resident of Sanborn, New Hampshire, Parker sits on the New Hampshire Tribal Council. He is also a crafter and performer, regularly attending pow wows in that region. "It is always nice to see friends," said Parker, who was also making his first trip to the Fort Kent event.
Donat Cyr, the Wesget Sipu chief, said Sunday afternoon that the annual pow wow is really intended for the non-tribal community more than anything else. "We do this for the public" Cyr said. "The entire community is welcome. We want people to bring their kids over and have a good time."
Central-Aroostook-based Split Feather provided this year's host drum. Holly Softstone Staples and Don Bear Paul led the traditional dances. The pow wow also included a grand entry, a Saturday evening potluck, a dance each day at noon, and several on-site vendors displaying and selling various crafts and foods.
Cyr said this year's event went well, with strong performances from the drummers and dancers. Next year, he said, he would love to see more residents return to the pow wow. "I am not sure what happened the last few years," said Donat, "but we want everyone to come back."
The Wesget Sipu are an organization based in Fort Kent dedicated to the preservation of native culture and traditions. The name is derived from the Mi'kmaq phrase for Fish River, according to the organization's website, and was created for people with genealogical ties to Native American groups in and around the St. John River Valley of Northern Maine.